This Crowd-Favorite Drugstore Brand Is Launching 3 New Products — & Improving An Old Favorite
ImaxTree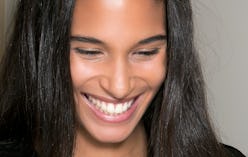 Settling in to do your nightly skincare routine can be relaxing, even meditative. Yet, for some reason, going through the motions when you're half asleep in the morning isn't as relaxing. If you've ever skipped your a.m. skincare routine to get a few more minutes of sleep, DERMA E's newly launched vitamin C-drenched micellar makeup wipe — one of three new products (and one reformulated product) DERMA E is releasing in January — is for you. Even better? All four new releases are under $20.
In fact, the Vitamin C Brightening Micellar Wipes will only cost you $7.50 when they launch on Jan. 21. In line with DERMA E's natural skincare ethos, the gently exfoliating wipes are 100 percent biodegradable, and are packed with vitamin C, vitamin B3, and licorice extract. Together, the three ingredients boost your skin's appearance from the inside out: licorice extract helps create a more even skin tone and reduce hyperpigmentation, vitamin B3 reverses inflammation and redness, and vitamin C brightens while increasing collagen synthesis.
Basically, the wipe does most of your morning skincare routine for you. Hopefully, the formula performs similarly to DERMA E's top-rated Vitamin C Micellar Cleansing Water ($12.95). Like the wipes, the cleanser is a blend of vitamin C and micellar water, though has had time to accumulate a perfect rating on DERMA E's website.
While you'll have to wait just a bit longer to grab the new Arnica Warming Sore Muscle Rub as well (a blood flow-stimulating herb and oil blend launching on Jan. 17 for $13.99), one of the three completely new products is currently online. Created to fight both breakouts and cystic acne, the Acne Blemish Control Treatment Serum launched Jan. 15 and retails for just $16.99. "Acne also continues to be a concern for our brand fans, at all ages, and so we are launching our Acne Blemish Control Treatment Serum into our Acne line," DERMA E's Chief Marketing Officer Barbara Roll tells the Zoe Report in an email.
"It's lightweight and comfortable, and full of powerhouse clean ingredients to combat acne such as salicylic acid, tea tree oil, [and] willow bark extract, while aloe vera, lavender, and chamomile calm the skin," Roll says. "The potent serum reaches deep in the skin to help unclog pores and prevent future breakouts for clearer, healthier looking skin!"
Roll also revealed how DERMA E reformulated the popular Anti-Wrinkle Treatment Oil. "[The oil] now is enriched with mineral-rich rose hip and grape seed oils, and vitamins A and E," Roll explains. Created to prevent wrinkles before they form, the new oil formula includes exfoliating glycolic acid and fatty acid-rich sea buckthorn to nip any lines in the bud.
Each new DERMA E product will be exclusively sold on the brand's website, with releases at retailers to follow. Shop a few of the new launches below, and head over to the brand's site when the other products make their debut soon.