Denim Style Secrets From One Of Our Favorite NYC Cool Girls
Photo: Geraldine Torres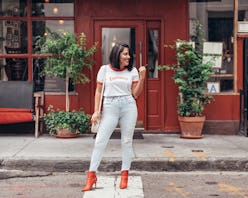 The end of summer can be bittersweet. While it's sad to put away your summer staples after a much-needed beach hiatus, fall means prepping your wardrobe for as many RSVPs as you can handle. (Translation? Plenty of excuses to refresh your closet.)
Fall is the perfect time for meeting up, catching up, and living it up, which is why you'll need pieces that seamlessly transition without ever feeling a touch out of place.
We tapped luxe fashion authority and NYC blogger Naty Michele to share some of her favorite fashion secrets for effortless style on the go, incorporating her new go-to autumn staple — Old Navy's Rockstar Jean with Secret-Slim Pockets.
Naty's wanderlust — whether pounding her own city's pavement or journeying solo through Italy's charming cobblestones — renders her an expert at formulating functional looks that literally go everywhere, any time.
"I treat denim as a neutral," she says. "It's one of the most versatile pieces in your wardrobe."
For her, a crucial part of shopping for denim is a flawless fit for her four-foot, eleven-inch frame. "An amazing outfit always helps to lift my spirits," says Naty. "You can be wearing the simplest thing, but when you feel great wearing it, your entire look is elevated." Old Navy's Rockstar Jean not only comes in petite, but the sewn-in Secret-Slim pockets also ensure a smooth silhouette from A.M. to P.M., making them a no-brainer for confidence-boosting style.
Read on to find out how Naty integrates Old Navy's denim into her incredible wardrobe.
Denim, A.M.-Style
Naty wears Old Navy Rockstar Jeans with Secret-Slim Pockets in "Ice Blue" and Tuck-In Slim-Fit Graphic Tee.
Lightly distressed denim is an autumn wardrobe game-changer, whether you're downloading your friends about the week over lattes or meeting your beau for a much-needed date night.
Here, Naty incorporates a few pops of burnt orange into her look for a trend-forward touch. To ensure things stay sophisticated, stick to no more than three pieces of the same shade. If you're fumbling to pull in more color, she recommends a swipe of lipstick: "A bold lip can instantly change your look," she says.
Denim, P.M.-Style
Naty wears Old Navy Rockstar jeans with Secret-Slim Pockets in "Ice Blue" and Sleeveless Ruffle-Trim Top.
A strategic tuck into the perfect pair of high-waisted denim transforms a garden party floral to date-night-worthy in no time. It's all about playing with the right proportions: slim cropped denim with a pump or mule will elongate your silhouette, dress things up for evening, and give you that little boost of je ne sais quoi that date night requires.
As Naty explains, "It may sound a bit cliché, but confidence really is the best accessory."
This post is sponsored by Old Navy.