Davines' Newest Texturizing Serum Includes This Added Winter Bonus
Davines/Instagram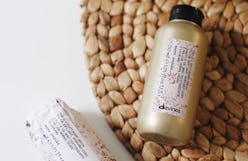 Davines is no stranger to the art of texturizing. The Italy-based haircare brand's This Is A Dry Texturizer — a lightweight spray that does exactly as its name entails — is a certified fan favorite, while its This is a Texturizing Dust lets those shoppers pay special attention to their roots (where they may want the added oomph the most). Still, though, there was a missing piece in the brand's texture-focused family: Davines' new This is a Texturizing Serum, released Dec. 1. Not a hair spray, not a powder, the silky new serum is Davines' answer to keeping hair full bodied while you blow dry, instead of tackling its shape after styling is said and done.
Retailing for $25 per 5.07-ounce bottle — and wrapped up in carbon-neutral packaging — the Texturizing Serum keys into re-workability, one of the things that makes Davines' haircare line a cult hit. In haircare speak, it means that you can apply the serum, work it into one style, and then change it up later; without encountering stiffness or the dreaded "crunch" of less flexible styling products.
But the main goal here isn't just adding hold to your hairstyle — it also helps you achieve structured shapes in the first place. The Texturizing Serum can be used to add body and shine to whichever style you're after (regardless of whether your hair is on the fine side or completely decked out with curls).
And no, the Texturizing Serum doesn't require a special application technique. According to the product description, simply smooth the light serum into your lengths post-shower, then style and blow dry however you'd like. As an added bonus, the serum features an anti-static effect thanks to an amino acid included in its formula — something that may come in handy while you battle static cling (and its effect on your tresses) this winter.
If that sounds like exactly what you need, you can find Davines' latest launch on its website or in brick-and-mortar Davines salons. Ahead, the brand's new This is a Texturizing Serum.