Daphne Selfe, The World's Oldest Model, Says *This* Is The Most Iconic Outfit She's Ever Worn
Stuart C. Wilson/Getty Images Entertainment/Getty Images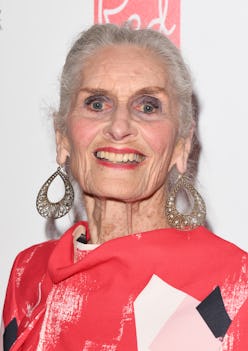 Daphne Selfe is currently the oldest professional model in the world and, at the age of 90, she has absolutely zero plans of retiring. Born in London, Selfe booked her first modeling gig "out of the blue" in 1949 at the age of 21. Selfe's personal style has certainly evolved and adapted with new eras and new trends, but her flair for dramatic colors and daring prints has created her chic-but-fun signature look.
Having been a professional model for 70 years, Selfe is using her significant experience to coach and mentor new and up and coming models on the industry as well as on their confidence, which, one scroll through her Instagram would tell you, she has in spades.
What were your earliest style influences?
My mother was always very stylish. She made a lot of my clothes and made sure I always looked my best. In those days, there was always the correct dress for each occasion, whether it was going to church, to a party, going riding, going shopping, or just being at home. Of course at school I also had to wear a uniform. So these requirements meant I had to adhere to strict style guidelines.
During World War II there was a shortage of clothes and materials so you learned to "make do and mend" and recycle what you had.
Did attending boarding school or living through World War II inspire any style rebellion in you?
Having been brought up strictly, particularly as I was an only child, I was happy to "toe the line" and not be too rebellious! We had to wear school uniforms but on holidays I could relax and wear what I liked — within reason. During World War II there was a shortage of clothes and materials so you learned to "make do and mend" and recycle what you had. My mother and I grew adept at making something out of virtually nothing, but we always enjoyed the chance to dress up for a party or the theatre and feel special.
Were there any specific trends that influenced your personal style?
I remember when the "new look" came out in 1947. I was still in school and I had a green wool dress for evenings at school, which had become too short because I'd had a sudden growth spurt. My dressmaker added a big black hem band to the bottom and I wore it for ages after that! When I left school and started going to parties and dances I made my first evening gown. It had a puce slipper satin skirt and a black lace strapless top completely covered with sequins — every one of which I sewed on by hand as there were no strips of sequins in those days! In a much broader sense, I was also always inspired by the royal family.
Can you recall an iconic outfit that you've worn?
I think the most iconic item I have ever worn professionally has to be the Jean Paul Gaultier corset made famous by Madonna. I wore it for a charity promotion for Oxfam's Big Bra Hunt in 2012!
What is your daily uniform?
My daily "uniform" really depends very much on what I am doing and the weather! I favor trousers — not tight — with jumpers or tops and probably a cardigan or jacket for around the house, gardening, and local shopping. If I am going to meet friends or have a meal I usually wear a skirt or a dress. I like lots of bright colors and scarves and I always wear earrings — large or small according to the occasion! I like cats, though I don't have any now, so I have a lot of cat-printed items like bags, earrings, and scarves. I wear hats, too, of which I have a large collection, as they keep you warm in winter and protect you from the sun in summer.
Everyone my age seems to disappear in a sea of black or colorless clothing.
If money were no object, what fashion or style item would you invest in and why?
I would love to have a dress or jacket or anything made by my designer friend Fanny Karst in New York, as she specifically designs for older people and I have modeled for her many times. If I wanted an evening or unusual dress made I would also go to my daughter — Rose Wordsworth — who has already made outfits for me.
Do you think the increase in focus on age diversity in fashion has translated into impact?
There is more notice taken of older and diverse fashion needs now, though I feel there is still not enough. Most magazines are geared to the young and people working. There isn't really too much for the retired group who have more time and money to enjoy fashion. Everyone my age seems to disappear in a sea of black or colorless clothing.
How would you like to see the conversation around age and style evolve?
I would like to see people being more confident to wear something other than black. There are some of us who do and whenever I'm wearing color people always remark on how cheerful it makes them feel in this uncertain world. I am sorry the sense of occasion has gone and hardly anyone "dresses up" for anything, which is a shame as it makes you feel special.
This interview has been edited and condensed for length and clarity.