Cuyana's New Category Debut Is About To Change The Way You Layer In The Winter
Courtesy of Cuyana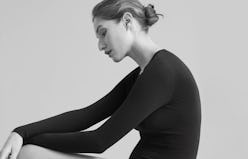 Layering in the early autumn — right as the leaves turn and temperatures start to drop — is a treat. Pairing the first sweater of the year with your favorite coat, retrieved from the back of the closet, feels exciting after summer's breezier pieces. Images of expertly layered outfits dance through your head, and you decide this is the year you master layering (whatever that may mean). Then, cut to the last week of January — when it's been cold for months, and you're over it. Instead of hiding in your comfiest hoodie until the snow melts, grab Cuyana's new Body collection; a collection of foundational pieces created to easily, comfortably layer under your clothes.
Or, if you live someplace snow doesn't fall, wear the clothes as your only layer. The pieces can stand on their own, or act as the first body-hugging layer beneath chunky knits and turtlenecks. The collection consists of five seamless pieces available in sizes XS to XL: three bodysuits, one pair of leggings, and one long short design. Prices range from $65 for the long shorts to $95 for the leggings; the body suits go for $75 and $85, depending on if you choose to opt for sleeves or go without.
Though choosing between the trendy biker shorts and a pair of seamless leggings may stump you, you won't need to fret about which color to buy. Each piece is currently only available in black, aka fashion's favorite winter shade and one of the few hues that goes with everything.
Following Cuyana's "fewer, better" motto, four of the pieces are made of 92 percent polyamide (similar to nylon) and 8 percent elastane (a spandex-like material). While synthetic, the blend is breathable, durable, and form-fitting without losing its stretch. The seamless long sleeve body suit is made of both fabrics as well, but includes a healthy dose of MicroModal in its blend, a silky, moisture-wicking material ideal for keeping you comfortable under all your winter layers.
You may spy one piece that isn't yet for sale on the Body collection's Stories page. Cuyana uses the page to tease a $45 tank design, previewed in one beige shade, and notes that shoppers can sign up for early access to the Summer 2019 design. The upcoming addition means exactly what you think it means — the Body collection isn't just a one-off run, it's a new category for Cuyana you'll be able to shop, winter to summer.
But summer is still a long way off, and you're going to need to stay warm until then. Ahead, all five pieces from Cuyana's debut Body collection, for shopping and additional layering inspiration.