This New Hair Mist Delivers Blow Dry-Like Results, Sans Heat Tools
Courtesy of Cuvée Beauty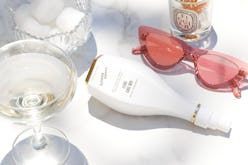 Ever wonder if you're the only one out there secretly counting the minutes while you blow dry your hair? If so, it turns out that you're definitely not alone. Before launching the Cuvée Beauty Air Dry Mist on June 24 — and introducing the world to its innovative, quick-drying formula — the brand surveyed over 500 women about their relationship with the popular heat tool. Unsurprisingly, Cuvée Beauty found out that over 70 percent of the participants blow dry their hair once a week at the very least. However, 75 percent noted they'd rather use the time for something relaxing (like a face mask or reading a book) while nearly 50 percent said they love how their blow-dried hair looks but can't stand the process behind it.
So, Cuvée Beauty set out to change the game entirely. The $38 Air Dry Mist seems simple on the surface: It's a product you spritz over damp hair to swiftly boost, moisturize, and style your tresses as they dry naturally — no blow dryer necessary. "I'm always in need of a great product to help me save time. I am super busy and don't have much time to spend on my hair, but always want to look put together and feel good," Cuvée Beauty's Founder Rachel Katzman tells The Zoe Report via email. "I struggled with other air-drying products because my hair would either feel dried out or still have frizz."
However, getting blow dry-like results without any styling tools requires a cocktail of ingredients. Vitamin B5, sunflower seed extract, and a water-soluble silicone prevent any future hair breakage; the three work together to enhance hair elasticity, encourage new growth, and improve each hair shaft. And, much like other fast-drying hair spray formulas, the Air Dry Mist uses an alcohol to get you the results you want ASAP — which means less time waiting around for your hair to dry.
"In addition, heated tools like flat irons and blow dryers have had such a negative effect on my hair; I saw it breaking and thinning. I wanted a styling product that would add healthy moisture back into my hair, but give me the hold I'm looking for without having to use heat," Katzman adds. "I also save a ton of time without having to use all of those tools. It's perfect for summer and early fall when I can let my hair air dry."
Better yet, the créme-to-mist formula won't disrupt your hair's natural pattern. "This product works extremely well for those who have curlier, more textured hair. It helps to lift the curl and keep it in place while also providing hydration to the strands," Katzman explains. Chalk it up to the formula's cuticle-smoothing copolymer (otherwise known as Silicone Quaternium-16): It "provides extremely high humidity resistance and guarantees long hold for both curly and straight hair," notes Katzman.
Which means you'll be able to achieve effortlessly styled hair, no matter how you wear your tresses. Ahead, Cuvée Beauty's new Air Dry Mist, available on CuveeBeauty.com.