There's A Beautiful Chesterfield Sofa On Clearance At Crate & Barrel Right Now
Crate & Barrel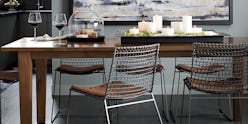 Drop everything: Crate & Barrel's clearance section is currently filled with anything (and everything) you could possibly want to furnish your home. While there is some truth to the idea that curating a beautifully furnished and designed home can be a labor of love, as well as take more effort than you might deem worthy, you can't ignore an opportunity for major savings — especially when it's on home goods you know you'll have for years. So, why not start get started (or really, continue) on creating your dream home now? With Crate & Barrel's Clearance Sale, you have the perfect opportunity to begin.
As a woman who leads a polished and fashion-forward life, it only makes sense that you want to bring your eye for style to all aspects of it (which, of course, includes your living space). Thank to the latest additions to Crate & Barrel's clearance section, incorporating chic pieces into your home is easy, and for up to 70 percent off, it's affordable too. Whether you're looking for pieces big or small, the retailer is sure to have it.
Give your bedroom an update with a new neutral-hued duvet, such as this Bianca Duvet Cover, which is on sale for $104.97. Or, if you prefer something on the more mysterious side, opt for this Lindstrom Black Duvet Cover, which is marked down to $53.47 from its original $199.95. If you want to complete the set, the coordinating shams for both duvet covers are also available in the clearance section.
If you've been looking to give your living room a new look, Crate & Barrel's Grafton Leather Chesterfield Sofa, on sale for $2,699.07, will be an investment piece that you'll have for years. Be sure to add a few accent pieces to it to create a more lived-in appeal, whether it be this Mingle Ottoman, which is available in multiple colors, or a cozy throw to stay warm for the remainder of the season.
If it's shelving and storage you need, the Oxford Black Wood Bookcase will be the perfect addition to your home that allows you to put your favorite things on display for your guests. Fill it with books, photos, or even these Verde Green Vases, which will add a fresh touch of color to your home.
With deals like these, some of the best pieces are sure to sell out. Before they do, scroll down to shop more chic pieces from Crate & Barrel's clearance section now.