COVERGIRL Is Cruelty-Free — Here's What The Brand's Leaping Bunny Status Actually Means
CoverGirl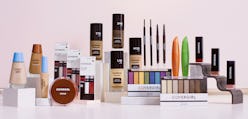 Beauty lovers, get ready to leap for joy: COVERGIRL is cruelty-free, and Leaping Bunny Certified. The American cosmetics brand announced the news on Twitter and Instagram on Nov. 5, much to the excitement of its combined 2 million followers — as it's the largest brand to earn the certification.
"Cruelty Free International is proud to present COVERGIRL with the Leaping Bunny certification — the internationally recognized gold standard for cruelty free designation. No other certification program has the rigor that seeks to completely eliminate animal testing from a brand's supply chain — it certifies that no COVERGIRL products or ingredients are tested on animals, either by COVERGIRL or its suppliers," said a release to TZR.
According to the Coty, COVERGIRL's parent company, it's a decision that was a long time coming. "Being cruelty free and achieving the Leaping Bunny certification for COVERGIRL is the right thing to do, at the right time, in the right way," Camillo Pane, CEO of Coty, said in an additional release. "Listening to our consumers, we started this journey with COVERGIRL to demonstrate our commitment to this issue by achieving such an ambitious certification at scale. This is consistent with our ambition of growing responsibly by championing open, inclusive and sustainable beauty."
The brand joins other cruelty-free makeup lines like Dose of Colors, Jouer Cosmetics, and Bite Beauty who already have the Coalition for Consumer Information on Cosmetics-approved seal on their products. The bunny isn't just a cute little emblem, though. In an explainer on its site, CoverGirl said that it "underwent a rigorous independent audit of our global supply chain from start to finish, ensuring that ALL of our products are free from animal testing." And according to Leaping Bunny, there are several boxes that any brand must check off before earning that status: the company cannot test on animals, for starters. Aside from the obvious, Leaping Bunny Certified brands also cannot source ingredients that animal test — and now, CoverGirl's products won't be sold in China (where it's required by law to test on animals as part of the product registration process, according to Cruelty Free International).
It's just another exciting development for the nearly 20-year-old line, which has Katy Perry, Issa Rae, Ayesha Curry, and Maye Musk among its notable spokesmodels. Last year, the brand underwent a massive relaunch, swapping its famous "Easy, Breezy, Beautiful" tagline for a declaration: "I Am What I Make Up." With the new branding came exciting new products, like TruBlend Matte Made Liquid Foundation (in a whopping 40 shades), the Perfect Slice Eyeliner, and the new Exhibitionist Lip Kit. And now with their new status, the brand will likely have a brand new wave of customers to try the new and old goods.
"You are sending a message to your competitors that Cruelty-Free is the way to go," @toscasmom wrote on Twitter. "Thank you so much for your commitment to animals and your consumers. I haven't bought any of your products in over 10 years, I can't wait to try out you guys out again"