Nail Care Brand côte Expands Into Body With The Most Luxurious Bath Soak
COURTESY OF COTE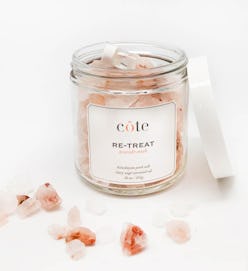 Congratulations, you've made it through winter, well almost, the official start of spring is still a few days away. Nevertheless, closing out the coldest months of the year is cause for celebration, and a night of self-care may be just what you need to kick off the new season. No relaxing night in is complete without a warm bath and now you can really bring spa-like vibes to your me-time with côte's Re-treat Seaside Soak.
Known for its clean nail care products, côte recently expanded its range to body care with the release of the new salt soak on March 15. And, the timing couldn't be more perfect, as your end-of-winter skin is likely in need of a boost before you slip into leg-baring dresses and slide on open-toed shoes. That said, treat yourself to a jar for $28 before the warm weather rolls in.
The soak uses a combination of two ingredients, with the first being Himalayan pink salt. A known detoxifier, the salt will relax your body and provide your skin with better hydration. The second component is clary sage essential oil, which not only works to improve circulation and digestion, but acts as an anti-inflammatory and antioxidant agent. So what happens when you bring the two together? Smooth, soft skin and a feeling of rejuvenation throughout your body. Sounds pretty nice, right?
But if for some reason that wasn't enough to convince you to try it out, you should know the product is easy to use too. Here's the breakdown: Begin by running a warm a bath or smaller foot soak and pour in a generous amount of salt crystals. The next step is to add three to five drops of the clary sage oil and, voilà, you're done. Now all that's left to do is slip into relaxation mode.
Ready to buy? Continue on to bring the new Re-Treat Seaside Soak into your tub time routine. Shop the product below and think about all the serene spring evenings to come.