Fans Of Shrimps' Faux-Fur Coats Are Going To Love This New Sneaker Collab
Hanna Moon for Converse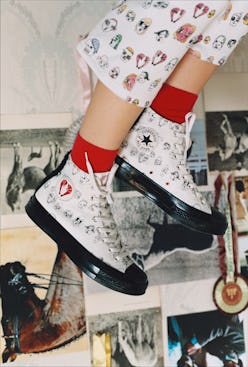 Let's be honest: If there's any time of year to break out your favorite faux-fur pieces, it's winter. Between the flurry of snowfalls and the cold temperatures, these fluffy items are the ones to wear when you want to feel both luxurious and cozy all at once — and for some, they're only necessary. While faux fur is typically associated with a neutral color palette, it doesn't have to be, thanks to London-based cool-girl brand Shrimps. A favorite among celebrities and influencers alike, there's a reason this colorful designer continues to pop up on your Instagram feed. And if you've been a fan of Shrimps and its statement-making coats, then you're going to love these new Converse sneakers.
In a season where most people often choose deep jewel tones, dark neutrals, and winter whites, Shrimps' vibrant and quirky designs stand out. Now, the colorful brand is bringing its aesthetic to your favorite American sneakers. Capturing the essence of young and daring women everywhere, Shrimps has created a women's footwear and apparel collection with Converse, which gives an update to beloved classics like the One Star and Chuck 70. In this collection, you'll find Shrimps' signature graphics and of course, its iconic faux fur.
If you find yourself to be a fan of the sneaker brand's classic high tops, you'll never want to take these Converse x Shrimps Chuck 70 High Top sneakers off. Available for $110, these feature a print made of hand-drawn face illustrations in black and white, a black patent sole, and a Shrimps logo ankle patch on the outer heel. Of course, you can't forget the touch of Shrimps' signature faux fur up the back of the heel. The style also comes with tonal shoelaces in white and a bubblegum pink, emphasizing the childhood nostalgia of the design. On the other hand, the One Star Low Top, $120, is made with a faux suede in a vibrant pink with floral doodle graphics in red. This style also features faux fur along the back of the heel.
You can also style your sneakers with the apparel pieces in the collection, which are just as cool as the shoes. Take on a new approach to athleisure and opt for a matching set with the Faces Pullover Hoodie, $100 and Open Hem Pants, $80, or wear them on their own with your favorite denim pieces. Or, if you want something you can wear literally every day, this Long-Sleeve Top, which features the Shrimps logo, will be just what you need.
Now, scroll down to see the full collection below, and then shop to get your hands on a piece of your own.