ColourPop Finally Restocked This Sold-Out Lipstick Collab, Including Its Perfect Berry Shade
Courtesy of ColourPop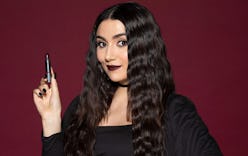 Take a look at the ColourPop x Safiya Nygaard lipstick collection, and you'll notice it's pretty much perfect. As in, the six-piece collab could be your sole lipstick collection. It's composed of $8 shades, with each one filling a distinct role: There's "Fred" (the classic red), "Bikini Bottom" (the everyday nude), and even "Brucie", a sartorially adventurous blue-green ColourPop describes as "sharky" in the product description. This could be why the collaborative collection flew off the digital shelves — and went out of stock — just days after its release this last October. Or, it may be the power of Safiya Nygaard.
For those who don't follow the vlogger and beauty YouTuber, you may not know about her "Bad Makeup Science Experiments" series. In the videos, which fetch millions of views on YouTube, Nygaard takes makeup products and melts, mixes, or otherwise blends them together in an attempt to find the average shade or, well, just see what happens.
This is exactly what inspired the collaboration's essential lipstick shades; for example, "Berry Me In Lipsticks", a creamy pink-hued berry, is described as "the midpoint of over 600 melted lipsticks" on ColourPop's website. No wonder it's such an ideal rosy shade, and sold out so fast.
Luckily, though, the entire ColourPop x Safiya Nygaard collection is making a return on Dec. 6. "It was so much fun having our Franken-makeup experiments come to life in the collab!" Safiya Nygaard tells The Zoe Report in an email. "We were so honored that people enjoyed the first round and are excited that it's back in time for the holidays for anyone who didn't get it the first time around!"
Nygaard also took to her Instagram page following the collection's debut to thank fans for all the love — and to share a few details about the collab's return. "As you guys know, we sold out (!!!) very quickly after launching even though we thought we had enough stock for a couple of months," she wrote in a caption. Nygaard continued by saying that the restock would arrive Dec. 6 due to the collection's custom components — which include the YouTuber's signature bat motif. "Perfect for some nightmare before christmas vibes?" she added.
Make sure you set your clock for this restock, too — since you can count on the online star's almost 8.5-million YouTube followers to have the collection on their wish lists. ColourPop's Safiya Nygaard collection will be back on sale 10 a.m. PT on the dot Dec. 6. Ahead, all six shades from the collection returning to the brand's online store.