If You Like ColourPop's Sweet Talk Palette, You'll Love This New California-Inspired Version
ColourPop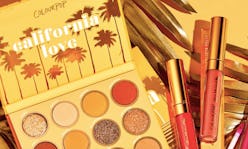 ColourPop has released quite a range of products this summer — and now, the brand has turned to its hometown for inspiration for its latest launch. Bringing together the warm hues, sunset shades, and shimmering metallics of the west coast, ColourPop's new California Love Collection has everything you need to get that summer-ready makeup look. Better yet, these beauty must-haves won't break the bank, either.
Unveiled on June 20, the newly launched collection contains a shadow palette, two mascaras, and five liquid lipsticks. And while you can certainly pick up individual pieces from the collection, you can also snag the whole lot for just $60 — which is a total steal considering everything that's in the mix.
For those fans of the popular Sweet Talk Palette, the most exciting member of this collection will likely be the new Cali-inspired sister version for $18. Called the California Love Shadow Palette, it offers up a selection of 12 summer-ready colors ranging from gold and brown hues to a vibrant yellow-tangerine shade. And, given the finishes include metallic, matte, and pressed glitter, this versatile palette will allow you to switch up your makeup look from beachy to sultry seamlessly.
Of course, when it comes to your eyes you can't forget about your lashes, and this collection serves up two BFF Mascaras for $8 each. You can keep it neutral with a dark brown called "Brownie Points," or go more playful by swiping on an on-trend coral hue, dubbed "Lovers' Coral." No matter which color you choose, you can amp up your eyes with the volume and lift this mascara's formula provides.
Rounding out the collection are five Ultra Blotted Lip shades that provide medium coverage and leave a sheer matte finish. Ringing in for $7 a tube, you'll see three refreshing hues: A strong orangey-red called "Swing Away," a pretty coral named "Ojai There," and a plum-berry titled "Double Double." For a lighter lip, take a peek at "Scenic Route," a peachy-nude shade, or if you're looking for a deeper tone, opt for the warm, brick-rose color, "Cypress Hill."
You don't have to live on the west coast to bring California vibes into your summer makeup routine — just continue on to start shopping this new collection from ColourPop.