Cole Haan's New Sneakers Are The Sleekest Way To Reach Your 2019 Fitness Goals
Cole Haan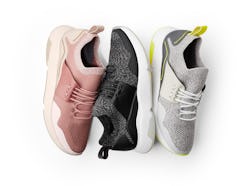 By now, you've probably heard more than enough "New Year, new me" mantras to last you, well, all of 2019. While you don't necessarily need a change in year to be the driving force behind any lifestyle changes you've been considering, it sure doesn't hurt to use the year as a marker to keep you on track. If you've decided to take on new fitness goals for the year, swap out last year's worn-in sneakers for a pair of Cole Haan's new ZEROGRAND All-Day Trainers.
It's no secret that the beginning of a new year calls nearly everyone to refocus and reset — especially when it comes to your health and fitness. Whether you're using the new year as an opportunity to explore new types of fitness, or you're ready to take your gym game to the next level, Cole Haan's latest additions to its ZEROGRAND collection will motivate you to power through anything.
Available now for $150, the All-Day Trainer comes in five different colors, ranging from classic white and black options to blue, gray, and pink versions, fitting any woman's workout style. If you're looking for a cool alternative to wear to the gym and beyond, the All-Day Slip-On, also available for $150, is available in black, pink, and white and will turn heads no matter where you are.
The ZEROGRAND All-Day Trainer and All-Day Slip-On are both made with Stitchlite, a knit fabric that was designed to allow your feet to breathe easily, as well as provide ultimate support and comfort throughout your workouts. These shoes also feature flexible soles made for any type of activity, whether it's getting in those extra miles on a run or meeting your new goals in weight lifting.
While you might typically associate sneakers — especially when they're trainers — with the gym, you can wear both of these styles outside of your workouts, too. Style them with a cool pair of lived-in jeans and a sweater for the perfect weekend wardrobe, or if you work in a casual setting, take them to the office with crisp trousers or work-appropriate leggings. Hands down, these shoes will have you in peak comfort at your desk, the gym, and everywhere in between.
Now, scroll down to shop these trainers and start working towards your goals for the year (if you haven't already, that is).