This New Coach Collection Turns Your Favorite Bags Into Works Of Art
Courtesy of Coach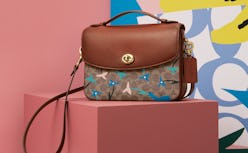 When you think of Coach, it's hard not to imagine its classic handbags with the brand's iconic logo-adorned print. And thanks to the reappearance of designer logomania, a piece from Coach featuring the brand's Signature print is a welcome addition to any wardrobe. But in case you're looking for something with a cool and unexpected twist, Coach's Art of Signature collection will have just what you're looking for.
Whether you've been a fan of Coach's logo pattern since the early 2000s or are just getting acquainted, the Art of Signature collection celebrates its logo print with a limited selection of handbags in the pattern. And for that modern update, Coach has tapped up-and-coming artists from around the world to create original artwork, which is featured on the bags. According to a press release from the brand, Coach carefully selected these artists for the "playful, optimistic attitude" shown in their work. The collection's artists include Marleigh Culver, Gianni Lee, and Anna Sudit of New York, Kendra Dandy of Philadelphia, Tyler Spangler of California, and more artists from London, Amsterdam, and Thailand.
According to WWD, Coach's Art of Signature collection — which will be available on the brand's website and in its stores — ranges from $295 to $450 and includes new takes on some of the brand's classic silhouettes such as the Charlie Carryall, the Riley crossbody, and the Central tote bag. Each item of the collection features colorful graphics such as hand-painted flowers, quirky imagery, and bold text from Coach's artists. In other words, each piece is instantly turned into a work of art.
As part of the Art of Signature collection's launch, Coach is also hosting two experiential pop-up events in New York and Los Angeles. The first pop-up will be at Hudson Yards in New York from July 11 to July 17. Shoppers will be able to take part in live bag customizations from select artists, including those who contributed to the collection. In Los Angeles, Coach's pop-up will be at Carney's Restaurant from July 16 to July 21. There, the brand will create an immersive experience inspired by the collection and the artwork featured.
If you're ready to add a piece or two from the Art of Signature collection into your wardrobe, you can purchase the bags from Coach's website or visit Coach stores to see them in person.