PSA: Chloë Sevigny Is Pregnant (& Her Style Is As Cool As Ever)
Aurora Rose/WWD/Shutterstock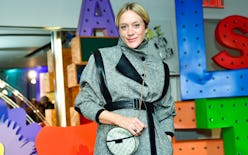 In her end-of-year Instagram post on Jan. 4, actor, model, and all-around cool girl Chloë Sevigny reflected on 2019 — ending the post with an optimistic, yet unassuming hashtag ("#thankyou2019hello2020"). Little did fans know that Sevigny had a major announcement for 2020 arriving just days later. According to People magazine, Chloë Sevigny is pregnant.
This will be her first child with art gallery director and boyfriend Sinisa Mackovic, with the baby due this spring according to USA TODAY. In photographs published on TMZ, Sevigny and Mackovic were spotted strolling New York City with the star's baby bump on full display. And while the low-profile couple has yet to officially announce the news on either of their Instagram accounts, you can sense the joy from the snapshots; the pair are seen smiling and sharing a kiss. TMZ reports that they've been together for more than a year.
Naturally, Sevigny's pregnancy style is utterly on point (though really, no one could've doubted that would be the case). The TMZ pics show her wearing a form-fitting, reddish-brown dress with an open flannel coat complete with black gloves and tall boots. Both the jacket and dress feature prominent ruffles — a detail that's important to note, and reminiscent of the tan Givenchy dress she wore to the 29th annual Gotham Independent Film Awards in December.
The Jan. 7 announcement follows a busy 2019 for the NYC It-girl. Sevigny appeared in Jim Jarmusch's The Dead Don't Die earlier last year, which opened the 2019 Cannes Film Festival. The actor also played a role in two popular streaming series, Russian Doll and The Act (the latter of which landed Patricia Arquette a Golden Globe Award for Best Supporting Actress in a Series, Limited Series, or Television Film).
Sevigny's films Love Is Blind, The True Adventures of Wolfboy, and Queen & Slim all premiered throughout 2019, as well. "So much gratitude for such a fruitful year, much love and many thanks to all my friends and collaborators," the star shared on her Instagram account, @chloessevigny. Here's looking to what else 2020 has in store for Sevigny, Mackovic, and their family.