You'll Never See Chef Camille Becerra Wearing "Chef's Whites" At Work — Here's Why
Nicole Franzen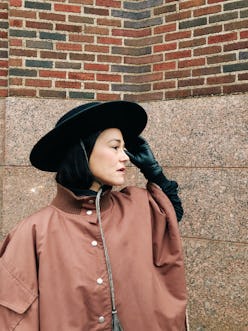 Throughout her career, Camille Becerra has held a lot of titles — chef, food stylist, and recipe developer, just to name a few. After studying at the Academy of Culinary Arts, Becerra, 46, did stints cooking for cancer patients in Philadelphia and vegetarian monks in New Mexico before bringing her unique perspective and commitment to responsible farming to the New York restaurant world. Along the way, she launched her own restaurant Paloma in Greenpoint, has been the executive chef at Navy, created the menu for the Casa Pueblo hotel in Tulum, and conceptualized and collaborated on the decor for Soho restaurant De Maria, which won a James Beard award for design.
But Becerra's flair for taste and design extends way beyond the restaurant world. Whether she's at work or just out there living her life, Becerra says her personal style is best defined as comfortable and classic. And no matter what the occasion, you'll likely find her wearing one of her signature hats.
What piece instantly makes you feel more confident and why?
A flat crown and flat brim hat gives most outfits a complete look. I'm anti-floppy brim, but find it somewhat acceptable for use at the beach. I like to think hats not only protect you from the elements; sun, rain and (with a tie) from winds, but also from bad energy; with a tilt of the head you can hide under your brim and disconnect. It's the style item I gravitate towards, and own multiple versions of wool ones for the winter and straw ones for the summer.
I made a clear decision to move away from the traditional "chef whites" and adopt a more personal style in the kitchen ...
How do you define your personal style?
My style is all about comfort. It's workwear that is tailored to your life and your body. It's about high quality, worn-in fabrics and classic cuts.
How has your style played a role in your career? Has it opened or closed doors for you? Has it evolved as a result?
While I'm unclear if, in fact, it's opened doors, many do say my hats are my signature. At a point in my career I made a clear decision to move away from the traditional "chef whites" and adopt a more personal style in the kitchen, searching out work jumpsuits, classic French work coats, and beautiful aprons.
What is your daily uniform? How has it changed or stayed the same? Why is it your uniform?
I love a midi or maxi skirt, I can't think of anything more comfortable; also I currently invested in a few pairs of baggy, high-waisted, pleated trousers. Simple shirts, oversized blazers, and in the summer I live in dresses as I don't like shorts at all. I typically have Air Force 1 sneakers or oxfords on my feet for work and comfort. Last time I visited Spain I bought a pair of lace-up traditional flamenco shoes. They have the most comfortable sole and I find them hyper chic.
I want to connect to style in every aspect of dressing.
What style item do you covet the most?
A Cordoba hat a la Spanish ranchera. Or anything from Marc Jacobs' F/W 2018 with the bolero hats, oversized coats with the pronounced shoulder pads. I recently found a hat designer out of Barcelona, Spain called Eliurpi, and my life is now complete.
Are there similarities between your approach to your work and your approach to style?
I feel like they are one. I want to connect to style in every aspect of dressing.
Who (or what) do you consider to be your first style influence? How did it impact and shape your aesthetic?
My first two style influences as a teenager were the hip-hop street style movement and Norma Kamali aesthetic. I connected to hip-hop and the style it produced, it was what was in the clubs and in the neighborhood. It allowed us to express our personal style using high-end fashion houses in relaxed ways. Also, I was very much inspired by the style portrayed by Norma Kamali. In the mid to late '90s, I connected with what felt like a downtown lifestyle, comfortable and chic even in the hard NYC winters, styles like her sleeping bag coat and baggy comfortable clothes made with jersey encompassed the way New Yorkers lived.
If money were no object, what is one outrageous luxury item you would invest in and why?
I would book a flight to Japan without luggage and with only the clothes on my back. I'd go shopping for a few key pieces and a beautiful large tote to fit it all in, because we all know that the Japanese do everything better, including clothing.
Which item in your closet is your most beloved/have you owned for the longest and why?
I purchased a Miguel Adrover trench in the early 2000s that I loved so much; from afar it looked like a camo print, but up close it was actually tiny flowers. I lost it recently and feel a pang each time I think about it. On the upside, I found a Furrina coat from the '80s at a vintage stop in Hudson. It's a cross between a coat and a cape, it's so warm. As an all-season bike rider, I was very happy to find this piece.
This interview has been edited and condensed for length and clarity.