Charlotte Tilbury's New Eyeshadow Palette Will Help You Kick Off 2020 With Major Sparkle
Courtesy of Charlotte Tilbury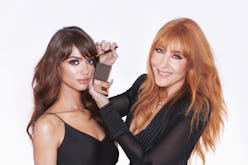 If you guessed that the new Charlotte Tilbury Queen of Glow Luxury Palette was named after its sun-kissed — and glowy — shades, you would be wrong. Launched on Dec. 20 (just in time for your holiday beauty routine), the new four-pan palette from the popular beauty brand gets its title from a more personal connection. "Darlings, they call me The Queen of Glow because of my lifelong passion for the transformative, magical power of radiance on the eyes, skin, body, and mind," notes a quote from Charlotte Tilbury, makeup artist and brand founder, in a press email. "I'm obsessed with putting the lights back in your eyes! With this gorgeous, glowing Luxury Palette, I want to amplify the glow that nature gave you."
To do so, the brand picked four shades to enhance your own shine, packaging them in a sleek compact retailing at $53: the metallic champagne "Prime", rich gold "Enhance", purple-brown "Smoke", and coppery "Pop." Though the shades are easy enough for regular wear, this is not your everyday neutrals palette — besides the matte "Smoke", each color in Queen of Glow packs in intense shimmer.
"These emollient-rich, highly pigmented hues act like sunshine bottled to give you glowing, seductive, regal-looking eyes that dazzle with golden sparkle," Tilbury continued. "Blend the shades together and watch your gaze turn gold!"
The glitzy palette is joined by the recently released Charlotte Darling Easy Eye Palette ($57) and the new The Rebel Luxury Palette, a reimagined take on the brand's original Rebel palette. Also retailing for $53, the olive-and-khaki quad is already marked as sold out on the beauty brand's website (though it's still in stock online at Sephora).
And between the three unique launches, fans of the brand have endless options for starting the new year — whether you prefer the bronze-hued drama of the Queen of Glow, The Rebel's modern smoky-eye, or the signature rosy shades of the Charlotte Darling. "Darlings, these are the looks the world has been asking for!" Tilbury added. "Three of my ultimate favorite magic palettes for eyes that dazzle with seductive light."
To shop all of the recent palette releases, visit Charlotte Tilbury's website, or find them at stockists; ahead, the new Queen of Glow Luxury Palette.