The Only 2 Makeup Shades You *Need* To Try For Fall 2019 (According To Chanel Beauty)
Chanel Beauty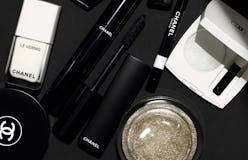 Technically speaking, you can't really say that there's a strict color story to be seen in Chanel Beauty's fall/winter 2019 makeup collection — even though there is a definitive theme. This is because the house's makeup line didn't focus on color this year. Instead, Chanel Beauty preoccupied itself with shades. "Black and white are the absolutes of Chanel. There is something both deep and mysterious yet divine and innocent about each," reads a quote from Chanel Global Creative Makeup and Color Designer, Lucia Pica, on the house's website.
Although this may sound limiting at first — how much can you accomplish with just black and white? — what Chanel Beauty crafted for its cool-weather Noir et Blanc collection is enormously creative. 15 unique products are listed online, and range from a classic red lipstick to daring, nearly black lipgloss (dubbed Rouge Coco Gloss in Laque Noire). You can see the collection's duality just by scrolling through its selection: Black nail polish is balanced by a pure white shade, an inky color is nestled next to a bone white in the new Les 4 Ombres eyeshadow palette, and that dark lip gloss is matched by the bright, white Rouge Coco Gloss in Crystal Clear.
Paring down its focus also seemingly has let the house create inventive ways to explore the two shades — such as the Ombre Première Top Coat Eyeshadow Veil in Carte Blanche, a limited-edition shimmer that leaves behind an impactful (yet barely-there) sparkle for $36. "Soften a dark shade by layering Ombre Première Top Coat in Carte Blanche on top of the shadow for an illuminating effect with subtle sparkle," notes a tip from Pica in the product description.
Even more intriguing is Le Gel Pailleté Transparent Shimmering Gel, another of the collection's limited-edition pieces. Retailing at $50, it's Chanel Beauty's luxe take on the ever-popular translucent body glitter; but in true Chanel Beauty fashion, you can use this high-end version on your face, as well.
However, make sure you don't wait too long to swoop on the collection. Chanel Beauty's limited-edition Le Volume Ultra-Noir De Chanel mascara — marketed as a "blackest-of-black" shade — is marked as sold out online. So, to explore the simple yet daring shades Chanel Beauty is recommending for fall and winter this year, continue scrolling; a handful of picks from Chanel Beauty's fall/winter 2019 makeup collection are ahead.