Selena Gomez & Karlie Kloss Styled Celine's New It Bag So Differently
Philippe Blet/Shutterstock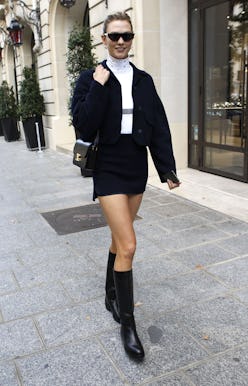 Sleek, modern, and sophisticated are all words you could use to describe Celine's Triomphe Bag. However, the style's eye-catching yet versatile design is what really makes it poised to be the next big It bag. Already spotted on a slew of A-listers, the classic style is one that's not only photo-worthy but easy-to-wear — the perfect storm for a must-have bag moment. But, as with any accessory that's primed to be the next fashion-girl favorite, there's no guarantee it'll be around for long — so you'll want to scoop up yours while it's still in stock.
No stranger to designing a highly coveted handbag, the luxury fashion house's latest buzzy purse features the signature Triomphe emblem prominently. A symbol that's been used across the brand since 1972 — when founder Céline Vipiana was inspired by the chain that surrounds the Arc de Triomphe — the double "C" acts as the bag's clasp. The combination of the easy-to-spot, gold-brass closure and the bag's clean, structured silhouette makes it easy to see why it's been snapped up by Karlie Kloss, Selena Gomez, Emilia Clarke, Brie Larson, Angelina Jolie, and more celebs.
Available in three sizes — Teen, Medium, and Large — the Triomphe bag starts at $3,100 and runs up to $24,800 for a crocodile iteration. And while the style is offered in several different materials, the most color options are available in a shiny-calfskin leather. You can take your pick from neutral shades like black, white, and tan as well as from rich, fall-ready colors like burgundy and a deep green dubbed "Malachite." Or, you can opt for a vibrant red or yellow shade to bring a pop of color to your outfit.
No matter which style you choose, though, you'll gain a bag that can easily be worn over your shoulder or as a crossbody, thanks to its adjustable leather shoulder strap. And, since it's up for grabs in a trio of sizes, you can select the one that best fits your spacial needs.
Plus, as a true chameleon, the bag can be styled with a range of looks. Selena Gomez paired her Triomphe bag with a head-turning, animal-print dress and a pair of over-the-knee boots, while supermodel Karlie Kloss used her bag to finish off her black and white ensemble. Though clearly two very different outfits, the timeless bag provides both with a polished final touch.
Continue on to shop the Triomphe, and head over to Celine to view even more handbag options.