Hedi Slimane's First Perfume For CELINE Is Coming This Fall — & It's Worth The Wait
Courtesy of CELINE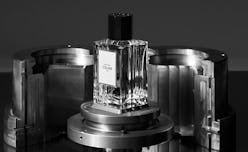 Hedi Slimane is once again gifting the fashion community a perfume for the ages. More than a decade after the creative director's now-famous Christian Dior perfumes hit the market in 2004, CELINE's Haute Parfumerie collection will arrive late Oct. this year. However, this is CELINE — Slimane's CELINE, to be exact. And in true CELINE (sans accent) fashion, you should be prepared for something sleek, dark, and inimitably provocative.
First up: a unisex formula. CELINE describes the perfumes as "masculine-feminine" scents in a press email, revealing the names of all 11 new scents; nine of which will arrive this fall, and two — titled Rimbaud and Bois Dormant — slated for 2020. Obviously, there's a celebration of CELINE's geographical roots to be found, with scents named Dans Paris and Cologne Française. There's a touch of CELINE's nostalgic, Iggy Pop-like chic, as well: the three nighttime scents are given darker names, like Black Tie, Reptile, and Nightclubbing.
And while each new perfume is broken down into Day or Evening — eight falling into the former category — CELINE is quick to note that all of the scents can be worn at any hour of the day. (Something the fashion house's devoted fans will take it up on, without a doubt.)
Regardless of which scent you choose, one Slimane signature carries through the entire perfume collection. Each scent will be anchored by "a powdery note", a longtime Slimane favorite CELINE points out in a press email. "The powdery signature of the CELINE perfume collection by Hedi Slimane provides each perfume with an enveloping patina and the French elegance of a couture trail," CELINE described on its Instagram account. This will be joined by '60s and '70s perfume signatures, such as tree moss, iris, rose, and a chypre accord.
Naturally, the bottle also was designed by Slimane, following French glassmaking traditions. It's unabashedly minimalist, with a crisp white label and a pitch-black lacquered cap sealing the perfume into place. Each cap is then finished with CELINE's Triomphe emblem, engraved into the design.
Make sure you keep an eye on CELINE's stores as the months go on, as well: CELINE's upcoming Haute Parfumerie collection will be exclusively available at CELINE boutiques late in Oct.