Elizabeth Stewart Says This Is The Best Red Carpet Moment She's Ever Styled
Donato Sardella/Getty Images Entertainment/Getty Images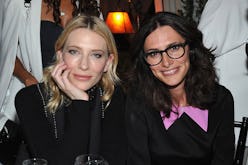 The Zoe Report's Best Dresser is a Q&A series that profiles top celebrity stylists, diving into everything from how they got their starts in the industry to their proudest fashion moments to date. For this installment, senior fashion editor Aemilia Madden spoke to Elizabeth Stewart, a celebrity stylist whose clients include Cate Blanchett and Amanda Seyfried.
Elizabeth Stewart may be a celebrity stylist with an impressive roster of A-list clients (think Jessica Chastain and Viola Davis, to name a few) but Stewart says she never planned for a career in fashion — she actually started out in journalism. Yet, after an impressive set of stints at legacy fashion publications like WWD, W Magazine, and eventually New York Times Magazine, Stewart carved out a new career in styling celebrities — and she hasn't looked back.
As both a champion for emerging brands and a pioneer helping devise custom red carpet looks with iconic fashion houses like McQueen, Stewart has helped define the space of celebrity styling since the profession's rise within the public sphere. And yet, as glamorous as that all seems, Stewart says there's a lot of work that goes on behind the scenes that few people ever talk about or see. Here, Stewart talks to The Zoe Report about her career, her clients, what people get wrong about her job, and how she uses fashion to share a larger message.
TZR: How did you get started in fashion?
Elizabeth Stewart: I was a journalism major in college and I wanted to work for a magazine, but was not necessarily fashion. I got to New York and I bartended, and just had jobs to survive, but my first real job was at Women's Wear Daily. I was a writer. A couple years in they sent me to Paris, which was literally fashion boot camp. One of my jobs was to preview all the collections, and I'd have to get a quote from the designer, so I saw the ateliers, I met all the designers, I saw all the work that goes into fashion, and it was just an incredible education.
Do you miss writing at all?
No! I mean, I don't. This was in the early '90s, and they were launching W Europe, which was W [Magazine] printed in German, Italian, and in French, as well as American W. It fell to me to shoot the covers, and I just never went back. It was so much more fun. I loved it, and that's how I turned into a stylist.
What did the job look like at the beginning? How did you come to work with your first client on your own?
I was a stylist for years. I went from Women's Wear Daily and W to the New York Times Magazine, and I did nothing but editorials. It was my job to come up with the concepts, hire the photographers, and just do the whole thing from soup to nuts. I shot a lot of celebrities in that capacity. My very first celebrity shoot I think was with Minnie Driver, and I didn't realize that we didn't get a say in certain things, like how the hair should look. You know with editorial it's full control, so that was a sharp lesson... like oh wow, this is really a collaboration.
"Cate Blanchett's publicist called me and said, 'Do you want to work with Cate?' Who's going to say no to that?"
I met Calista Flockhart on a shoot and I ended up shooting her several times. She asked me to dress her for the Emmys, and that was the first time I ever worked with a celebrity [in that capacity]. It was a really slow start for me, I was a magazine editor, and also doing Calista, and then maybe a couple years after that Cate Blanchett's publicist called me and said, "Do you want to work with Cate?" Who's going to say no to that?
Cate was in 2006, and that sort of threw me into it furiously. This coincided with, and again all very slowly, magazines sort of falling. I don't want to say they're dying because they're still around, but magazines are becoming less important, and social media and the world of celebrities are becoming more important. When I started in fashion, models were on the cover of magazines, and so I sort of rode the celebrity wave.
When you first meet with a client, how do you get a sense for someone's personal style?
It's interesting, I've had nine clients and worked differently with all of them. The most important thing is meeting them. I've got to try things on them, I've got to see what works, I've got to see what they respond to, see what makes them feel good, because I know everybody says that, but it's incredibly important. Clothes are powerful and they can make you feel great, or they can make you feel bad. That just happened. Amanda Seyfried just went to the Art of Racing in the Rain premiere in this yellow Oscar de la Renta dress, and when she put that dress on she transformed. You don't know that until you're in a room with somebody.
Is the way you think about dressing yourself different for you from the way that you think about styling your clients?
It could not be more different. I'm super lazy when it comes to dressing myself. I wear dresses most of the time, because I just have to put on one piece in the morning and then be done as opposed to matching pieces together or finding the right shirt. I can't self-analyze, I don't know why. Sometimes I look back at pictures of myself and I'm like, "What the hell?"
"The end result is greater than the sum of the parts. It's hair and makeup, the dress, how the client feels that day. A magic look is one that transcends all of those."
Sometimes creative people like a uniform, right?
Exactly! I think of someone like Grace Coddington or Tonne Goodman, these brilliant Vogue editors who have done the same, and I take comfort from that.
When dressing someone, what makes a look red carpet worthy?
The end result is greater than the sum of the parts. It's hair and makeup, the dress, how the client feels that day. A magic look is one that transcends all of those.
When Cate was just on the jury at Cannes, that was a special time, because it was right when Me Too started. We did our first fitting and organically all the designers we chose were women. It was a great statement, but wasn't forced at all. It's about harnessing this power that you have. At that same Cannes, Cate re-wore her 2014 Globes dress just to say, "Clothes are meant to be cherished, they're meant to be worn for a lifetime, it's ridiculous to not re-wear them, they're not disposable," and I thought that was a great statement.
How do you as a stylist work within the parameters of celebrity brand endorsements?
I have never looked at it as a limitation. I think that the best partnerships are organic, it comes out of a real relationship. Rather than being an albatross on your neck it's like, "OK, wow, I know this atelier really, really well. I know these people really, really well," and creating an amazing dress becomes second hand. It's easy to do with people that you've worked with for years. The Cate and Armani relationship is the most obvious one.
It's a relationship-oriented business, and the more you work with designers and the more they know your client, it just makes everything — I keep using that word organic, but I really like it — it makes everything more organic.
"I've always made a huge effort to support young designers. It's part of our responsibility as stylists. And it's also that if you have any power, harness it for good."
Do you ever use styling as an opportunity to work with younger brands where a placement makes such a big difference for them, versus some of the bigger ones?
I make an extreme effort to support emerging brands. I have definite favorites, Yacine Aouadi, who Cate wore twice. And then Esteban Cortazar at the London premiere of Carol. Those are amazing new designer dresses. Gal [Gadot] wore Esteban Cortazar to [Palm Springs International Film Festival].
I've always made a huge effort to support young designers. It's part of our responsibility as stylists. And it's also that if you have any power, harness it for good.
Is there any situation that stands out to you as the most incredible, dressing someone for a red carpet?
When Viola Davis won her Oscar in a red Armani dress. It was just the way she felt in it. Being part of that sort of historic moment, I've been through all that with her. That is what is the most special to me.
Fashion-wise, Cate at the 2011 Oscars in Givenchy by Riccardo Tisci. I remember seeing that dress before she put it on, and seeing her bring it to life was definitely a special, magical moment.
Jessica Chastain, too. Jessica wore this Alexander McQueen — it was black with gold embroidery. We did a fitting in London with Sarah [Burton, the designer], and it was a black toile and Sarah drew on the toile with a gold Sharpie. Seeing that happen was just like, "Oh my god, I can't believe I get to do this for a living."
Do you enjoy working on custom pieces for clients?
It's the absolute best part of what I do. There's a lot of grit to styling. You're hauling clothes around, packing boxes, shipping, and struggling to figure out how to pay for tailoring and all your expenses. What gets me through all that, because that part is really, really rough, is to get to work with these great ateliers, and create dresses with brilliant designers.
Designing is this stressful talent that I don't have. I think of myself as maybe an art dealer? You can recognize it, but I certainly don't have it. So seeing what they do and getting to collaborate on that, in the slightest sense by the way, I guess being able to provide a forum for it, is special. That's the absolute best part of what I do, and makes it all worthwhile.
Do you feel like there are perceptions of the job that just aren't true?
Yes. What people notice — it's our fault, too, because we're only posting the glamorous Instagram pictures — but maybe the reality is that it's so much accounting, it's so much packing, a lot of heavy lifting, and just figuring out how to get things done with no budget whatsoever.
That's not the interesting, fun part, and I understand that it's a boring thing to post, but you know, maybe I should start a second account. That would be really funny, actually. Instagram versus reality.
What excites you most about fashion right now? What are you optimistic about?
I love that the industry is all about change. I don't know if I would call it exciting, but I have so much hope that all this concern, the concern that the industry has for being sustainable and environmentally correct, is going to manifest into much better practices. I think it's exciting to have some power to affect change. Because otherwise, how can you make a difference? You just sort of harness whatever power you have.
This interview has been edited and condensed for length and clarity.