Cashmere In Love's Sale Is Going To Make Your Holiday Party Looks So Much More Comfortable
Cashmere in Love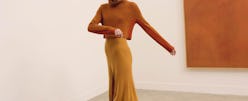 Not to say that sequins and party dresses don't have their place among all of the festivities the winter season calls for, but there's something to be said about wearing something on the more unexpected side to each of your holiday fêtes (or at the very least, a handful of them). Case in point: party knits. Hear us out: Not only will knitwear keep you undeniably warm and comfortable throughout the party circuit (which, if you're spending the holidays in a colder climate, you know you'll want), but it'll also add an unparalleled level of elegance and polish to your party dressing. If you want to step up your sweater game for your upcoming parties, you're in luck; Cashmere in Love's sale section will have everything you're looking for.
Whether you're planning on sporting a full cashmere ensemble for any upcoming parties you might have in the calendar, searching for the perfect pants that were practically made for traveling, or looking to simply stock up on gorgeous sweaters to wear throughout the rest of the winter season and into the spring, you can get it all for up to 30 percent off in Cashmere in Love's sale section.
For the ultimate party look, style this Violet Open Shoulder Jumper, which is marked down from $497 to $372, with a chic pair of trousers or coordinated bottoms, such as Viva Ribbed Knit Skirt, now $358 with the sale. With a pair of classic black heels and sparkling earrings, you'll have an ensemble worth celebrating in. You also can't go wrong with the Alex Knit Trousers and the Olympia Jumper, both of which can be worn together for a go-to look that will work for your office holiday party or brunch with your friends, as well as separately with your most-loved wardrobe staples.
If you're taking a more casual approach to party dressing this year (or winter in general), this Layla Cropped Rollneck, on sale for $465, will look beautiful with a pretty silk slip skirt or even your favorite pair of high-waisted jeans. Just in case you're looking for the perfect turtleneck sweater, it's this simple Vera Jumper with Bowtie is a classic piece with a twist. Not to mention, the cutout detail in the back makes it so much cooler than your standard sweater.
No matter what occasion you're shopping for this season, Cashmere in Love's sale is where you'll want to get all the soft and creamy knits for the year. Scroll down to shop more from the sale and cover yourself in head-to-toe cashmere now.