Caryn Franklin Is Making Diversity In Fashion Her Priority & She Wants You To Do The Same
Courtesy of Billie Scheepers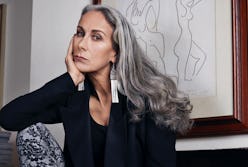 If you lived in Britain in the '90s, you watched The Clothes Show, a BBC TV show hosted by Caryn Franklin. During her 15-year stint as host, she delved into every corner of the industry, educating audiences and shaping young creatives like Christopher Kane, who credits the show with inspiring him to study at Central St. Martins. (Her coverage of Lee McQueen's first couture collection for Givenchy even earned her a cameo in Ian Bonhôte's McQueen documentary.) Her career, which began with a fashion editor role at i-D Magazine, extends far beyond her time on The Clothes Show. Her interest in the politics of image, identity, and self-esteem has been a throughline, making her a guiding voice not only in the fashion broadcast space, but also as an educator and champion of inclusivity.
She is a lecturer at Central St. Martins, London College of Fashion, and Royal College of Art, and is an ambassador for the London College of Fashion's Centre of Sustainability. In 2013 she was awarded an MBE (Member of the Most Excellent Order of the British Empire) for her services furthering positive body image and diversity in fashion. Unsurprisingly, her approach to style is cerebral and inspiring.
How has style played a role in your career? Has it opened or closed any doors for you? Has it evolved as a result of your career?
I think clothing has always been a big part of my voice. I've used it to say, "I'm making a statement about being an individual, I'm not conforming to trends. I'm not being obedient."
As I've gotten older, I've felt that that voice has needed to be louder, because fashion has become such a powerful force in women's lives. If it doesn't question its homogenized views around identity, then it can be a force for oppression.
I began my career at i-D Magazine, which was all about individuality. I was the first fashion editor on the magazine that began in 1980, and I arrived in 1982. I recognized the opportunity to talk about fashion in a more meaningful way, with a more politicized understanding of how identity is a key aspect of who we are. And fashion is merely an embellishment. Fashion isn't the main story. It's just there for us to use as tools.
For a long time I stopped engaging with fashion as it was being offered to me.
What category in fashion, currently, do you feel is the most lacking?
A lot of young creatives go into the idea that they, too, will design for the 18 to 24-year-old, tall, thin, white girl. The matter is considerably over subscribed. So thinking about people and the end user as individuals, and where creative skills could really be put to best advantage, means that you do look in places where fashion hasn't really shone a light.
I think we're beginning to see as we have more diverse creatives in the market, and more diverse perspectives, that there are many underserved areas.
How do your personal shopping practices support your principles?
For a long time I stopped engaging with fashion as it was being offered to me. I began to find people who were dealing in garment construction by working with found fabrics, recycled garments. I also looked for designers who were working sustainably. I often buy secondhand, or sample garments, so you feel like you're getting something individual. I also swap with my adult daughters and darn my clothes. I'm actually not in typical department stores or high street stores very often. I wouldn't be able to afford high-end designer prices. I have friends who are designers and I wait for their sample sales.
In your opinion, what are the implications of a lack of diversity in fashion and style?
First of all, fashion imagery is all powerful. It's highly influential and able to influence how women feel about their own appearance and their own bodies, so if someone is consistently invisible in fashion imagery, because fashion doesn't see them, or see their beauty, then that impacts on their self esteem.
The fashion normative body does not represent most of us. Even for those who it does represent, it appears as a perfected ideal with all the post-production work on it. Most women do not make a healthy connection with fashion imagery. Business needs to understand that women come in all shapes and sizes, skin tones, ages, and body appearances, and they need to see themselves to feel empowered and emboldened. If women, en masse, take their money to a company that behaves in an emotionally sustainable way then the companies that aren't listening to the voices out there will simply not survive.
Can you describe an outfit that you've worn that was iconic for you in some way?
An outfit for me that I enjoyed wearing very much, was to collect my MBE, which was in recognition of the work I had done in education around portrayal of selfhood. I chose to wear a garment by Ada Zanditon. I wanted to take something that had been ethically produced, because I knew it would be photographed.
It was an absolutely stunning gray and black slubbed weave with some silver shot through it. Very square leather sleeves, belted through the middle, wide flowing trousers. Because I went to Buckingham Palace there was the suggestion that I might like to wear hats. I've always worn silk scarves on my head, or scarves, not necessarily silk. But I happened to wear a large, black silk scarf on my head.
I've got an amazing Junky Styling waistcoat that was made from old men's jackets. It's got inside pockets, outside pockets — I love a pocket.
Which item in your closet do you love the most?
I have a very battered studded, leather jacket that is nearly 40 years old. I bought it second-hand from a store on King's Road called 20th Century Box. It had lots of holes in it where studs had fallen out, and a heavy metal or a punk rock fan had written something on it, but it was incredibly faint. So I decided to hand-paint my own slogan on the back. That's been on there ever since. It looks really old and faded now, but I still happily wear that jacket out. It's a massive talking point, people always want to know about it. Of course my daughters always want to wear it, but they get limited use of it.
Which item instantly makes you feel more confident when you put it on?
Waistcoats. I have lots of waistcoats. I certainly like large style waistcoats with pockets, with features like textured fabrics. I've got a couple of John Richmond waistcoats that have different tiers of fabric. I've got an amazing Junky Styling waistcoat that was made from old men's jackets. It's got inside pockets, outside pockets — I love a pocket.
What is your typical daily uniform, and has it changed a lot over time, or has it stayed pretty consistent?
I don't have one, because I can be at my desk and so obviously I can be comfortable, but interestingly, I still dress as though I'm sharing an office with people. Because I need to feel clothes on my body to stimulate me. I can't just sit there in pajamas.
If I'm going on location, then people have an expectation of what I'm gonna turn up like. So I've got different tiers of look. If I'm turning up to be an academic, then it tends to be stricter with attention to textures, more muted colors. If I'm turning up to be visible for an audience, then I'm scarves in hair, big ear chandeliers, and brighter colors.
What style item do you covet the most? It can be either casual wear clothing, a specific item, a designer, which is something you always gravitate toward when you're shopping.
I'm always interested in structured clothing, and clothing that is not what it seems. We stylists might call it "tricksy". I don't like things that are obvious, and I don't like things that are overt.
I like something where you have to come a little bit closer to look at it, because it looks interesting. Try as I might, I always tend to find those things in darker colors. But I'm a big fan of red. If there's anything red on the rail, I've gotta go and check it out. But, I inevitably end up coming back with something darker.
I love knitwear, and anything with pockets. Pockets, pockets, pockets. If it's got pockets in it, I'm interested.
My ultimate idea of luxury would be that one day we will hold all makers of clothes to account, and that we can encourage them to consider their process.
How do you define your personal style?
Celebratory. Individual. Comfortable.
How do you define luxury when it comes to fashion?
When I can see the provenance of an item, and be reassured that everybody involved in the make of it has been treated with respect.
My ultimate idea of luxury would be that one day we will hold all makers of clothes to account, and that we can encourage them to consider their process. And that certainly there won't be any faceless labels, because we will have the technology to scan a label which has to self-declare carbon footprint and fabric provenance and worker levels of care.
That's probably too much, I'm dreaming. But one can.
Are there any, relatively, widely available brands that you think are doing good job with that? That you do think are worth the support?
People Tree, and Po-Zu, you know they have a very good presence. There is a label called Wear the Walk. It's a very clever agency that deals with sustainable designers. It's run by Zoe Partridge. It's a sustainable wardrobe, you pay a subscription, it's like your own personal clothes library. Instead of feeling that you're constantly having to buy to achieve the novelty that you'd want, you rent them.
Zoe has chosen to work with designers whose intention it is to be sustainable, and so she's creating really a double whammy. She's making sure that clothes aren't being discarded, that they're being passed around and passed on, and she's working with designers who have set themselves higher standards.
This interview has been edited and condensed for length and clarity.