The Carolyn Bessette-Kennedy Way To Wear This 2019 Sandal Trend
Getty/ Russell Turiak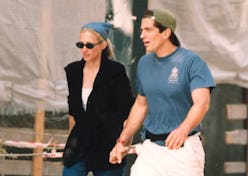 With the ever-changing landscape of fashion, there are only a few stars who have retained icon status through the ups and downs of runway trends. When thinking of what sets each of these women apart, it's that they possessed a unique sartorial perspective that defined a pivotal period of time in fashion history. One such trendsetter is Carolyn Bessette-Kennedy, who's '90s-era style managed to marry the classic and trendy in an entirely special way. As a publicist for Calvin Klein and the wife of John F. Kennedy Jr., Bessette-Kennedy helped to usher in both refined minimalism, and high-low dressing.
Like Carrie Bradshaw, for many women, Bessette-Kennedy has helped to define New York style, both during her time as a resident, but also at present. In fact, many of her best looks would work just as well for summer 2019 as when she first wore them decades ago. Breezy dresses, bootcut denim, and strappy block heels all serve as proof that summer style can be polished and fuss-free all at once. Bessette-Kennedy often preferred simple, polished separates that fit many modern women's need for items that can be mixed, matched, and worn for any occasion. If you're ready for a summer style refresh, scroll on for four of Carolyn Bessette-Kennedy's looks that you'll want to recreate ASAP.
Floral Midi Dress + Black Accessories
Bessette-Kennedy was a master at accessorizing. Above, she elevated a breezy floral midi-dress with pointed-toe, slingback pumps and a patent black bag. While black accessories may not be your initial pick for summer, by embracing sleek patent and a strappier heel, the pieces feel more appropriate for warm weather. For a modern day approach, pair a floral midi with a pair of black strappy sandals and a woven bag. For a throwback approach, add a baguette bag.
Black Tank + Jeans + Sandals
The Calvin Klein publicist often embraced the less-is-more mentality. She opted for simple, strong silhouettes that worked well together without much effort. She often preferred bootcut denim, both for warm and cool temps. On days when the weather permits, pair cropped denim with a sleeveless black muscle tank. To finish, embrace the strappy sandal trend, a style that works as well now as it did then.
White Tee + Black Jeans + Sneakers
During summer, there is no piece easier than a simple white T-shirt, as proven by Bessette-Kennedy. Though a tee can easily be styled with a midi skirt or denim shorts, on travel days, opt for black trousers in cotton or linen. Sneakers and sunglasses are both pieces that ensure comfort while adding a relaxed air to the look.
Oversized Blazer + Jeans + Bandana
Bessette-Kennedy used simple silhouettes and menswear-inspired pieces as the foundation of her looks. To pull off a blazer this time of year, it's all about fit and material. For a light option, look for a loose fit in linen with a simple tank underneath. Accessorize the blazer look with a bandana over your hair, and a pair of signature '90s-inpired oval sunglasses. A strappy sandal with a block heel adds a modern touch to this classic look.