Leave it To Cara Delevingne To Tackle Spring/Summer 2020's Trickiest Trend
ANGELA WEISS/AFP/Getty Images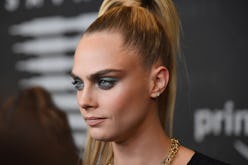 There are plenty of reasons to love Cara Delevingne. However, if there's anything that truly makes the British model and actor stand out, it's her unparalleled sense of style. As a true fashion daredevil — with no aversion to the bold — the It girl has proven her knack for pulling off the toughest trends time and time again. In other words, she owns them. And as a new addition to her portfolio of jaw-dropping looks, Cara Delevingne's cutout jumpsuit might just be taking on the trickiest trend of them all.
Let's be honest: It's hard to find a trend that Delevingne can't wear well. After all, when it comes to cool and otherwise daunting style, the Carnival Row actor — with the help of her stylists Rob Zangardi and Mariel Haen — appears to be right at home. Case in point: a cutout jumpsuit that reveals just the right amount.
On Oct. 13, Delevingne stepped out wearing a Guy Laroche jumpsuit from the designer's Spring 2020 for the Girl Up #girlhero Awards, reinforcing the idea that cutout details will be everywhere next season. And to make the daring piece the focus of her ensemble, the style star accessorized with a pair of simple white pumps by Christian Louboutin and silver hoop earrings.
The actor's skin-baring Guy Laroche ensemble should come as no surprise. Whether she's walking on the red carpet or just out and about, Delevingne has a history of donning looks that veer on the side of edgy or unexpected. From a grunge-inspired twist on a feminine dress to a classic tweed jacket — or any one of her cool red carpet looks, it's clear that Delevingne is no stranger to taking a sartorial risk. This one, however, is giving an introduction to one of 2020's biggest trends.
If you've been paying attention to the latest looks from this past fashion month, then you've probably noticed that cutouts of all sorts — from updated keyhole necklines to gaping openings at the waist — made a regular appearance on the runways. And while fall's cool air and winter's impending winds may keep you from regularly sporting the trend until spring arrives, Delevingne's bold take on the trend will give you something to look forward to when the temperatures begin to warm up again.
Of course, if you do want to wear the trend this fall, there are few options to you can add to your wardrobe now that are far less risky. Scroll down to check them out below.