By Humankind's Buzzy New Launches Make Minimizing Single-Use Plastic So Much Easier
by Humankind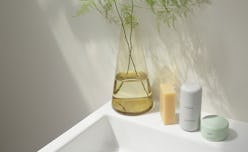 Attempting to cut down on your single-use plastic intake can feel a bit like opening up Pandora's box. Once you realize how much packaging you encounter in just one day — from unwrapping a new mascara to grabbing a plastic-wrapped sandwich on the go — it's easy to get overwhelmed, and fast. But by Humankind's new Body Wash Bar, one of many just-released launches by the plastic-reducing brand, is here to help; it makes adjusting your usage as easy as picking up a new bar of soap.
The $15 Body Wash Bar is one of three new drops that arrived on the brand's website Nov. 6; it was joined by a $15 Conditioner Bar and $15 Hand Soap Cube that day, and the travel-friendly $30 Dopp Kit around a week before. Chances are high that you may already know about the brand, and these new releases, too — by Humankind's earth-friendly shampoo bars and refillable natural deodorants have helped to garner it a buzzy reputation.
So, how does by Humankind work? It depends on which product you buy. These three new launches all come in bar form — this means that each one eliminates more than an ounce of single-use plastic from your personal care routine. This has a way of adding up; by Humankind notes on its website that you can cut back on up to five pounds of single-use plastic waste each year by using its products.
And just because it's good for the environment doesn't mean you're skimping on personal preferences. You get to select which scent you'd like for your body wash, conditioner, and soap, as well; for example, the Body Wash Bar is available in trendy scents like "Blood Orange + Bergamot", "Grapefruit", "Tea Tree", and unscented (in case you'd rather suds up without a fragrance).
In tandem with the new bar launches, by Humankind also debuted bacteria- and mold-resistant Bar Dishes made from diatomite that can be added to your order. Two shades are available — off-white and gray — and while they both serve a functional purpose, they're so well designed that you'll be happy to have one on display next to your sink or tucked away in your shower.
To shop by Humankind's entire product line, visit byHumankind.com. Below, the three new plastic-minimizing bars from the brand.