Burberry Presents Its Vision for the Future (& It's *Very* Sparkly)
Courtesy Burberry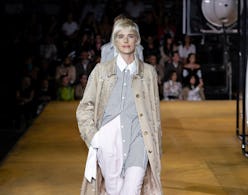 As the adage goes, those who don't know their history are doomed to repeat it. But at the runway show for the Spring/Summer 2020 collection for Burberry, Chief Creative Officer Riccardo Tisci made it clear that history can inspire a different future. He's done his due diligence when it comes to taking the reigns of a brand so steeped in British culture and fashion history, and his latest runway show during London Fashion Week showed an apparent nod to the past but included a vision for what's to come.
"Evolution" is the latest of Tisci's collections since joining Burberry last year, and from the start of the show one could easily spot the brand's signature themes in his designs: sharp, classic tailoring; pristine shirting; flashes of tartan; and of course the iconic trench. But new and bold interpretations were just as evident. Sleeves and hemlines were generously fringed, as well as modeled by a newly blonde Kendall Jenner. Gingham provided a fresh alternative to tartan in a classic spring color palette. As for the ever-present trenches, they were reimagined with vibrant scarf-print panels and seemingly dripping in crystal brooches, namely worn by Agyness Deyn who made a long awaited return to the runway since shifting gears to focus on her acting career.
"My first year at Burberry was about understanding and refining the new codification for the house," Tisci shared in the collection's show notes. "With that foundation in place, I feel ready to start exploring what's at the heart of this incredible brand." With this in mind, the Spring/Summer 2020 collection was also steeped in Victorian Era inspiration, the period of time in which Thomas Burberry lived and created his brand, as well as "a time in Britain for great change and progress, an era that has always inspired me and my work," the designer noted.
Unlike other recent themes in fashion, including prairie dressing or Western style, the Victorian references weren't quite as literal to the era they came from. Tisci infiltrated ideas such as full and pleated sleeves shown on body hugging silhouettes, corsets with a sportswear edge, and delicate, frilly tops worn layered over striped tees (a styling trick to try ASAP). Meanwhile elegant lacy dresses were seen throughout, both long and flowing as well as mini versions with trains for a dramatic touch. From the neckline the words "I am a unicorn" were visible, another nod to the original Burberry designer. "He chose to present his company with an emblem of a knight on a horse," Tisci added in the notes, "but for his family crest, he instead chose a unicorn."
Of course, Tisci's vision for Burberry's future wasn't solely about refreshing some of the ideas the brand was built on, nor looking only as far as next spring. In an effort to become a carbon-neutral brand by 2022, Burberry's show Monday afternoon was also its first certified carbon-neutral runway. "We have offset our impacts, such as the flights of guests traveling to London specifically for the show," the brand shared on Instagram, "and the build and production of the event, through VSC-certified REDD+ projects which prevent deforestation and conserve tropical rainforest in the Brazilian Amazon."
Tisci's runway — which closed with feathery dresses and crystals galore that hung from mesh gowns and baseball caps alike — seemed optimistic and playful. However, some of the most promising things shaping the brand in 2019 have to do with its vision for a more sustainable future and, like other brands reevaluating their impact on the environment, its dedication to not repeating the past.