The Grown-Up Way To Wear Bows, According To The Golden Globes Red Carpet
VALERIE MACON/AFP/Getty Images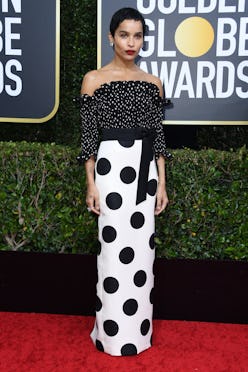 The Golden Globe Awards mark the first major award show of the new year (and decade). Just five days into January, stars are offering a first look at the glamorous trends that will gather steam on the red carpet in the months to come. Already off to a strong start is the bow dress trend, which at 2020's Golden Globes has appeared in both subtle iterations and impossible-to-miss designs.
Bow detailing was a popular runway design spotted this past season at Brock Collection during New York Fashion Week and during Valentino's show in Beijing this past November. The prevailing look presented by these fashion houses was oversized and voluminous, a trend recreated on the red carpet by the likes of Jennifer Aniston (in Valentino), and Scarlett Johansson (Vera Wang). But for those looking for a more subtle approach to the trend, celebrities also opted for a more low-key take, styling a simple sash around the waist for a subtle but romantic addition to the traditional red carpet dress.
Bow details were also a popular choice at the 2019 Golden Globes, with Gemma Chan and Charlize Theron both opting for styles with oversized features at the neckline. Below, take a look at how the celebrities tackled the trend in 2020, from subtle to over-the-top.