The Black-Owned Beauty Brands Everybody Should Be Gifting This Year
Instagram/Uoma Beauty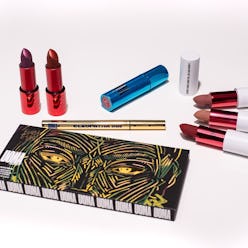 I live by Issa Rae's notorious proclaimation: "I'm rooting for everybody Black." And that goes all the way down to my beauty routine as well. Growing up, I couldn't find many brands that were reflective of my needs or representative of my heritage. But times are happily changing, and as inclusivity increases, so does the Black-owned representation in makeup, skin, hair, fragrance, and beyond. So this year, I tried doing things the Issa Rae way. I challenged myself to only shop Black-owned brands, and I must say, doing so was easier than ever.
Still, it's hard to believe that there was once a time where Black-owned brands were a scarcity. According to a 2018 study conducted by Nielsen, "Black shoppers spent $473 million in total hair care (a $4.2 billion industry) and made other significant investments in personal appearance products, such as grooming aids ($127 million out of $889 million) and skin care preparations ($465 million out of $3 billion)." But it's about so much more than just shade inclusivity. It's a testament to the creativity, business savviness, and in-depth knowledge of beauty Black women boast — and this is just the beginning.
So if you're up for the challenge as well, check out the ones that I'll be gifting the beauty lovers in my life this holiday season.
Black-Owned Beauty Brand: Uoma Beauty
When Sharon Chuter launched Uoma Beauty earlier this year, I immediately found myself enamored with the rich packaging and names dedicated to Black-female icons. The Savage Black Magic Color Palette, one of the initial releases, features rich hues of brown, red, and blues, that flatter each and every skintone.
Black-Owned Beauty Brand: Beauty Bakerie
Beginning as just a one-woman operation founded by Cashmere Nicole in 2011, the brand has gone on to become a $5 million empire with the most adorable makeup ever. This Karak Chai Set is for anyone looking for the perfect nude lip.
Black-Owned Beauty Brand: Violet Summer
I'm a candle hag. Don't believe me? Well my bedroom currently boasts at least 25 to 30 candles, all of which get plenty of use every single day. So when I heard about Violet Summer, founded by fashion lifestyle writer Melissa Ann Henderson, I had to try. The signature scent of the brand is a sultry, yet citrus fragrance with a burn time that seems to last forever.
Black-Owned Beauty Brand: Fenty Beauty By Rihanna
We can always count on Rihanna for some haute couture holiday beauty, and this year is no different. The Glossy Posse gift set, featuring the beloved Gloss Bomb formula with even newer shades that are guaranteed to have everyone at the holiday party asking "What shade is that?"
Black-Owned Beauty Brand: Bossy Cosmetics
The brain child of Aisha Fatima Dozie, Bossy Cosmetics stands by the motto, "I'm not bossy, I'm the boss!" The brand's signature formula, available in endless shades is the matte liquid lipstick that won't dry out your lips and doesn't require any liner.
Black-Owned Beauty Brand: Knotty NYC
In what started as a mobile beauty bar created by Tiffany Drysdale-Lombardo, Knotty NYC expanded this fall into haircare with the launch of its first hair elixir. The formula is the ideal finisher to any curly or protective style, or base for a great silk press.
Black-Owned Beauty Brand: Pear Nova
Rachel James was looking for vegan nail polish that would last longer than the average, so she created it. The BRWNGRLMGC Collection, crafted specifically to compliment the many hues of brown skin, features blush and brown shades.
Black-Owned Beauty Brand: Buttah Skin
Longtime actor and model Dorion Renaud has an enviably smooth complexion, so he bottled it up to share with everyone else. Buttah Skin, which Renaud describes as "supreme skin for ethnic skin" on his website, includes cleanser, serums, moisturizers, and body butters.
Black-Owned Beauty Brand: Pretty Curls Club
"We've gone too long as a culture disliking our hair," celebrity hairstylist Angela Styles says of her recent book which empowers young girls to embrace their curls. "The sooner we begin to love our hair the more confident we will be. I wanted to instill that pride at day one."