How To Shop Black Friday Sales Like A Pro, According To The Pros
Pixelformula/SIPA/Shutterstock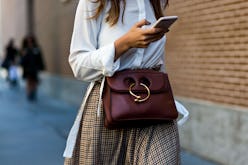 Black Friday sounds appealing in theory — a chance to score all the items you've been eyeing at a major discount. But the reality can be something quite different: a chaotic day that leaves you feeling like you missed out on the things you really wanted, and bought a bunch of items that were never really on your list. But, don't let the memories of a bad year or two stop you from scoring some key items. The fact is, there are plenty of great deals at your disposal, you're just in need of the right Black Friday shopping tips to help you navigate the fray.
To help break down exactly how to prepare, Andrea Woroch, a money-saving expert, and Caroline Maguire, Shopbop's fashion director, share their top tips for navigating the day stress free. Whether you're planning to do your deal hunting online, or are hoping to head to stores and do some shopping IRL, you'll want to take note of their money- and time-saving tricks. Their advice touches on everything from the best ways to prep ahead of time, to smart ways to find the best deals day-of, to the best way to stick to your Black Friday budget. Below, find a break down of everything you need. You might be surprised to find that come Thanksgiving, you'll be excited for the next day's shopping.
Before You Shop
For Woroch, Black Friday marks the ideal time for nailing down gift-giving. "Think about all the people you want to buy gifts for and jot down a list of ideas for each person along with a budget," she suggests. In addition, she notes that it's important to scout prices beforehand so you can see what type of deal you're really getting. "Big discount claims influence shopping decisions, retailers may inflate original prices to make Black Friday deals look like a better value. Beat stores at this game by researching the original price of the products you want to buy ahead of Black Friday so you can spot those misleading offers." Woroch adds that you can also follow favorite brands on social media or subscribe to newsletters for of-the-moment updates on deals.
And, while it seems obvious, you should have a good idea of what you're looking for, Magurie says. "I think we've all bought something that we ended up never using just because it was on sale." On Shopbop, Maguire utilizes the heart function ahead of time to build a shopping list that makes day-of shopping easier. "Go in with a game plan — what you need, what gifts you need to get, and what you want — but always leave some room for creative shopping."
Day Of
When it comes time to finally do your day-of shopping, if you're logging on from home Maguire suggests getting online as early as possible to snag the best deals. To find those hidden gems, her tip is to use the sorting function on any e-tailer's site. "Sort by percent off high to low and your size," she suggests. And if you're feeling torn between multiple pieces, "unless it is final sale, why choose? You can always try the product on and return what doesn't work."
If you're planning to do your shopping in person, "go to a mall where you can access multiple stores on your shopping list quickly and easily without driving around town," notes Woroch. "Recruit a shopping buddy to divide and conquer your lists together, so you can get in and out quickly." Woroch notes that shopping with a friend can help save time by allowing one person to do the shopping while the other holds a spot in line. You can also go in on packaged purchases together and split the cost up once the day is over.
Hazards To Avoid
Since the chaos of Black Friday can at times be stressful or confusing, the experts have a few key mistakes to look out for when you're feeling overwhelmed. For Maguire, it's simple: Don't wait on your must-haves. "Wait too long and your size is gone," she proclaims. If you've already built up your must-buy list, it's easier to execute on a purchase, since you aren't second-guessing whether you're eyeing something just because it's on sale.
Still, if you're feeling unsure about an item Woroch advises to be cautious about impulse purchases, especially if you're trying to stick to a strict budget. "Don't go into a store you didn't plan to shop at in the first place or you will set yourself up for poor buying decisions," she explains. In addition, she suggests making sure you read the fine print when shopping. "Some [deals] may require a mail-in rebate to get the low price and if you forget to send in the rebate, you'll miss out on those savings, she notes. "It may be better to buy from another store for a few extra dollars that doesn't require a rebate in this case. Just do your research ahead."