A Bunch Of Expensive Gift Sets Are Majorly On Sale At Sephora Right Now
Sephora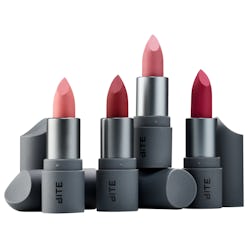 Haven't started your holiday shopping? No need to panic just yet. Leave it to Sephora to yet again save the day when it comes to finding last-minute presents at an affordable price. Currently, the destination for all things beauty has a number of top brands marked down, which includes Bite Beauty lipstick on sale and more gift sets that you can score on major discount.
A Sephora sale, however, can easily lead to hours of scrolling. To avoid this, you'll want to first narrow in on who you are shopping for. If your best friend loves a good shade of lip color, scoop up Bite Beauty's Four Little Bites Amuse Bouche Lipstick Set. Though it's regularly $25, you can now shop this set (which includes three bestselling shades and one limited-edition color) for a sale price of $15.
The family of four is rated just under five stars by customers, with fans of the set praising the lipsticks for their texture and level of hydration. With the winter chill here to stay for the next few months, the recipient of this gift will be grateful to have a range of saturated pigments filled with shea butter and beeswax to prevent the dreaded dry, cracked lips.
Have a Secret Santa exchange coming up with your girlfriends? The sale has several items that would make the perfect gift for your BFF. If she isn't afraid of a little sparkle, you'll want to shop the Stila Aura Alight Glitter & Glow Highlighter and Liquid Eyeshadow Set. Now marked down to $30, this present will definitely come in handy when New Year's Eve rolls around. Another option for a lover of all things that glitter is a palette filled with shimmering shadows from Jouer Cosmetics for $36. The giftee can achieve the ultimate sparkle by applying the glittery eye topper over the shadow.
For those loved ones known for always having a Nest candle burning, add the Nest Luxury Layering Collection to your cart for $59. The luxe set includes five different perfumes with coordinating body lotions that all come in pretty floral packaging. Each pairing is small enough to pop in a bag for on-the-go use and will make it through airport security in your carry-on.
With so many presents to buy and so little time (Christmas is now less than two weeks away), there's no time to waste. Continue on to shop 10 of the best sets within Sephora's sale before they're all gone.