This Non-Traditional Engagement Ring Trend Is On The Rise — & It's Surprisingly Chic
Etsy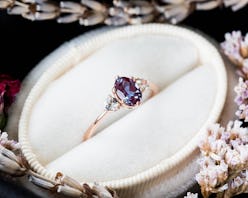 Without a doubt, everyone who gets engaged wants their ring to feel special to them. How you go about that is up to you, though. Maybe you want a thoughtful message engraved onto the band, or a uniquely large diamond. Or you could take the customization even further: According to Etsy, one of the breakout wedding trends to watch in 2019 is birthstone engagement rings.
"One emerging trend in non-diamond engagement rings is incorporating birthstones," Etsy's trend expert Dayna Isom Johnson said in a press email. "On Etsy, we've seen 34K searches for 'birthstone engagement rings' in the last three months, and I predict the trend will continue to grow in the new year."
It could be that ring shoppers are looking for an excuse to include color — something traditionally left out in favor of classic white diamonds. "2019 is going to be all about putting a twist on traditional styles," Johnson explained. "For generations, the diamond has been the ultimate stone for proposing, but today's bride isn't tied to the norm — she wants to express her personal style and choose a ring that reflects her personality — which is why in the new year, other gemstones will become go-to staples for engagement rings."
Johnson noted that Etsy searches for non-diamond rings have been climbing; emerald rings, the birthstone of May, take the lead with over 328,000 searches in the past three months. Sapphires (September's birthstone) follow with close to 113,000, then opals (October's gem of choice) with close to 84,000. However, anyone born in April is still stuck with diamonds, the birthstone of the month — which may not be a problem for anyone who prefers classic rings.
This does bring up an interesting point that's true for many of the months and birthstones, though: You aren't stuck with a color just because it's the most typical for your stone. Shoppers that aren't thrilled by pale diamonds could go with a dreamy brown shade or a dramatically dark black hue, while anyone born in February could snag a green amethyst, and so on. Chances are, you may not even be locked into a particular stone; many of the months have multiple birthstones, such as August and December.
Regardless of how you proceed with the trend, it's bound to beautiful. Ahead, 12 birthstone engagement rings from around the net, with one for (you guessed it) each month of the year.
January
February
March
April
May
June
July
August
September
October
November
December