Why Biossance's New Eye Cream Should Be Step One Of Your Makeup Routine
Biossance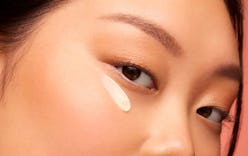 Sure, the beauty industry may currently be dominated by skincare-makeup hybrids (and for good reason) — but the trend typically is rooted in cosmetics. Since BB creams first broke down the dividing line, you've probably seen — and bought — countless makeup-first products with additional skin-boosting benefits. So, it may be just a bit surprising to see a product like Biossance's new Squalane + Marine Algae Eye Cream, which launched on July 1. The line-firming moisturizer is an eye cream first and foremost; however, it's also formulated to help prime and color correct the delicate area beneath your eyes, allowing your makeup to blend into your skin.
Read more: The 13 Best Dermatologist-Recommended Eye Creams In 2021
To understand how the $54 eye cream gets its cosmetic powers, you need to take a look at the color wheel. Biossance's new cream is tinted a soft, peachy pink, which may do wonders to subtly correct the color of dark circles beneath your eyes. (A more orange hue traditionally is used on deeper skin tones to cancel circles out, though the eye cream's warm tint may still provide a solid base.) Better yet, the eye cream's squalane packs moisture into the skin, creating a plump, primed surface for any foundations or concealers you layer on top of it later.
This means it's also time to rethink when you apply your eye cream. Biossance's website notes that you should use the Squalane + Marine Algae Eye Cream in the evening and in the morning. Additionally, the brand says in the product description that you should apply the cream after you cleanse your face but before any heavier serums or moisturizers, putting it squarely as step one in your morning makeup routine.
It's important to pay attention to the feeling of any morning product, though — since anything too heavy could add unwanted weight or texture beneath your makeup. Luckily, Biossance created its eye cream to have a "melt-in" texture, which lets the product's ingredients sink right into your skin (instead of disturbing future complexion products).
Looking forward to fitting this new skincare-makeup hybrid into your routine? Continue scrolling down to pick up a jar of Biossance's new Squalane + Marine Algae Eye Cream on the brand's website.