Biolage Created A Super-Powerful Hair Mask That's Actually Travel-Friendly
Matrix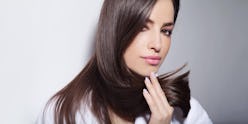 It's 2019, and nailing on-the-go hair care is still stressful. Do you buy new, travel-sized versions of all your favorite products? Or squeeze your shampoo and conditioner into tiny jars, toss them into a plastic bag, and hope for the best during the flight? When every added suitcase pound counts (literally), Biolage's Deep Treatment Packs are here to answer at least one of the age-old travel problems. The hair masks are pre-packaged in easy, resealable pouches that are nearly 80 percent lighter than containers of the same size.
And, since everyone has different haircare needs — even when traveling — Biolage rolled out three different versions of the mask in March. Each deep treatment mask retails for $15, and contains four uses of the completely vegan formulas. And no matter which mask you choose, Biolage promises results: Each product description states that the masks can reduce hair breakage by 70 percent.
All you need to do is pick which one your hair needs. For anyone constantly hydrating their tresses (or about to head to any desert musical festivals) there's the HydraSource Deep Treatment Pack; the moisturizing mask contains gloss-boosting aloe and spirulina. Worried about battling a tropical vacation's humid climate? Grab the SmoothProof Deep Treatment Pack. The formula's plant-based emollients work to smooth down hair and tame frizz, allowing you to actually achieve all the hair styles you have your heart set on while you travel. (Plus, the added ingredients camellia and castor oil encourage your hair to grow.)
Lastly, the ColorLast Deep Treatment Pack — which you may want to snag ASAP regardless of your summer plans. Biolage says using this mask means "no more cold-water rinses or skipping shampoos", which honestly is probably music to your ears if you have dyed hair. The mask tackles two problems color-treated hair encounters: fading and damage. To repair hair and keep color in, Biolage formulated the mask with orchid and apricot seed, which it claims helps strengthen and moisturize your locks.
So, while you may still need to figure out how to get your favorite shampoo to your destination, at least your conditioning needs are set. Ahead, all three of the Biolage Deep Treatment Packs.