Best Buy's Green Monday Sale Is The Best Time To Buy Those Last-Minute Tech Gifts
Courtesy of Google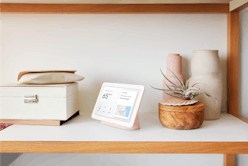 Whether you need a present for a gamer, an engineer, or the all-around techie in your life, buying gifts for tech lovers in 2018 can be confusing. Honestly, even the most technologically advanced shoppers can spend hours puzzling over different MacBook models or recent Google products. Fortunately, the Best Buy Green Monday sale is basically a well-thought-out list of the coolest tech gifts of the year at Black Friday and Cyber Monday prices — with sales on Apple computers, Google Homes, and more.
Without a doubt, the Google Home will be one of the most popular tech gifts of the 2018 holiday season, and Best Buy has discounts on almost the entire product line. During Green Monday, you can get the Google Home on sale for $99.99 (originally $129), the Google Home Mini on sale at $29.99 (originally $49), and the Google Home Hub discounted from $149 to $129.99. Which one is right for your giftee is up to you — even the Google Home Mini features the Google Assistant program, which allows you to Google questions and control your smart devices just by using your voice.
You may as well go all-out and invest in the Google Home Hub, though. The 7-inch touch screen does add extra power to the smart device, and it's perfect for those who prefer visual over audio. Users can stream the news on the screen, pull up their calendars, display photos, and thousands of other tasks. The Hub is compatible with over 5,000 smart devices, too, making it a smart gift if you aren't sure what your techie friend already owns.
Saving on Apple computers is also a reason for celebration. A MacBook is at the top of the holiday wishlist of someone you know, and getting any type of deal on luxe Apple gadgets is a win. Though you have your choice from Best Buy's discounted Apple products, the MacBook Air's revolutionary lightweight body and Intel Core processor will impress any techie; the laptop has an impressive 4.8 stars out of 5 from over 6,800 reviews. Originally $999.99, you can score the 13.3 inch MacBook Air on sale for $899.99.
Besides its endless list of neat gadgets for the home and office, Best Buy has fantastic deals on cameras. Pick up this discounted Canon camera set for the family member that always documents holiday dinners or the teen that's been begging for their own camera. Regularly $749.99, the impressive Canon set is on sale for $449.99 and has an almost perfect rating out of 3,561 customer reviews. It's easy to see why the set is a hit, too: The bundle includes a Canon EOS Rebel T6 DSLR Camera, an 18-55mm lens, a 75-300mm lens, a shoulder bag for easy carrying, and a rechargeable battery pack with charger.
You'll be able to find something for anyone on your list, techie or not, from Best Buy's lineup of much-loved brands. Ahead, 11 tech gifts discounted during Best Buy's Green Monday event.