Everything You Should Know About Bergdorf Goodman's New Program For Emerging Brands
Courtesy of Bergdorf Goodman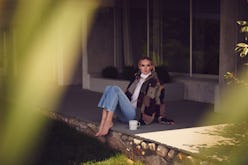 These days, whether it's scrolling on Instagram, clicking through pages of new arrivals, or a simple word of mouth, there are plenty of ways to discover new and emerging brands. But when it comes to finding out which of these up-and-coming labels are worth keeping on your radar, all you have to do is look at the names retailers are investing in. And now that Bergdorf Goodman has announced the launch of its Fall 2019 BG Radar Program (with some of its designers quickly becoming household names) you'll know exactly which ones deserve your attention.
With Radar, Bergdorf Goodman's latest initiative, the retailer is partnering with a curated selection of eight designers to bring their names to the forefront of the fashion industry by providing a platform and space for each brand to grow. Whether it's in the form of physical retail space, store displays, digital marketing, social media, or events, brands that are part of the Radar program will have direct access and exposure to fashion lovers everywhere through the luxury retailer.
In BG Radar's first selection of new designers, you'll find a mix of labels that have been taking the industry by storm, like Sies Marjan, Bode, and KHAITE. Along with those, there are a select few you may not have heard of yet (but rest assured, they'll be at the top of your shopping list, soon).
Perhaps you've already stumbled upon some of these labels. KHAITE, which recently landed at the front of nearly every social media platform and publication after Katie Holmes sported a chic and casual cardigan outfit, has become known for its luxurious and classic staples. On the other hand, you can always rely on Sies Marjan for bright and colorful statement-making pieces worthy of a special occasion. And then there's Bode, an innovative brand adored by editors for its unique approach to fashion and workwear. If these designers are any indication, Bergdorf Goodman's Radar will be highlighting a wide range of aesthetics.
If you're looking for your next party dress, make sure to have Rotate Birger Christensen, which will have a full selection of '80s-inspired frocks, onto your list of brands to know. And for those of you who want to start building a wardrobe of chic neutrals and basics, you can't go wrong with pieces from Deveaux New York.
Scroll down to shop pieces from some of the designers in the roster below.