Benefit Just Released A New Brow Product & It's Full Of Styling Possibilities
Courtesy of Benefit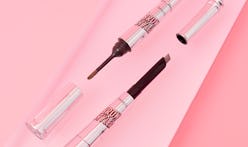 There are two types of beauty fans: Those who do their brows the same way every single day, and those who let inspiration call the shots each morning. Benefit's new Brow Styler, revealed Sept. 26, is for both. Retailing at an impressive $34, the Brow Styler features both a traditional wax pencil and an innovative loose-powder applicator; this means you have three unique ways to complete your arches on any given day with the Brow Styler — you can dip into the powder, draw them on with the pencil, or use both for defined, full eyebrows.
"Benefit is driving brow category growth around the world and right now, the fastest-growing brow product format is multi-format and dual-ended," Benefit Global Brow Expert, Jared Bailey, explained in a press email. "Brow users are becoming more advanced as brow styles are changing."
This also means that 2019 is the year for products "as multi-tasking as you are," noted Bailey. "Beauty users are getting much more creative, often reaching for two brow products in their daily routine, which is why it's time to usher in a new era of brows with our newest brow innovation: Brow Styler. Instant beauty solutions are at the core of Benefit's DNA, and this first-of-its-kind, dual-ended tool is all you need to create multiple looks in minutes."
Shoppers currently have eight Brow Styler shades to choose from: "Cool Light Blonde", "Warm Golden Blonde", "Warm Light Brown", "Neutral Medium Brown", "Warm Deep Brown", "Neutral Deep Brown", "Warm Black-Brown", and "Cool Soft Black." Regardless of which one you choose, its pencil side will keep your arches precise, all day long — Benefit notes that the formula is waterproof and boasts an 18-hour wear time.
Meanwhile, the natural-finish powder will add a soft, filled-in look to your arches — whether you use it in tandem with the pencil or not. The powder itself is buildable, allowing you to have control while you add color and definition to your brows. This is aided by the applicator's custom felt tip: It was created with precise, angled strokes in mind.
For now, you can pick up Benefit's new Brow Styler on the brand's website for $34 a pop (and open your brow game up to so many more possibilities). Below, a link straight to the new 3-in-1 tool.