Bella Hadid Made Costume Jewelry Chic With A Pair Of $40 Heart Earrings
Vittorio Zunino Celotto/Getty Images Entertainment/Getty Images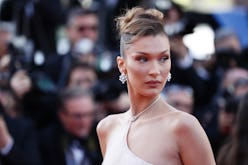 Your favorite piece of jewelry from childhood was just resurrected by the street-style empress, herself. Bella Hadid is obsessed with her heart-shaped earrings, barely giving them a break over the past week. Perhaps the best thing about her nostalgic accessory is that it's so budget-friendly.
The Hadid sisters spent their Independence Day weekend channeling their inner child at Disneyland Park in Anaheim, California. It was only fitting that the retro duo dressed like a couple of '90s kids while out mingling with the Disney princesses.
Gigi sported fuchsia tie-dye co-ords like the kind you used to own with chunky white tennis shoes and a sweatshirt tied around her waist while carrying an old-school disposable camera. Her younger sister opted for a black crop top with leopard trim by UNIF and Brandy Melville sweatshorts. It was her accessories, though, that added a playful flair.
Her adventures at The Happiest Place On Earth called for a quirky, cartoon panda-adorned Louis Vuitton pochette and a custom diamond name necklace by LAJOUX. The highlight, however, was a pair of $40 heart-shaped earrings by Frasier Sterling.
Not all that long ago, wearing heart-shaped anything might have been called tacky. Nowadays, all the fashion girls are vouching for the childlike jewelry.
Before her visit to the Magic Castle, Hadid sported her $40 Lovers Hoops during an evening out in West Hollywood: Proof that the throwback accessories can be made edgy, too.
A day before the Disneyland outing, Meghan Markle attended Wimbledon wearing a sapphire heart button ring by Jessica McCormack. Alternatively, Taylor Swift sported a pair of heart earrings similar to her model friend's in her latest "You Need To Calm Down" music video.
Heart jewelry even made a cameo at Paris Haute Couture Week via the woman who monopolized the whole show, Celine Dion. On the final day of the fashion extravaganza, the singer wore a Vetements' version of the iconic sapphire necklace from Titanic.
Ready to follow your heart? The model's favorites and similar heart-shaped earrings, ahead.
Shop The Look