Bella Hadid & Kendall Jenner Speak Their Truths For Calvin Klein's New Campaign
Mario Sorrenti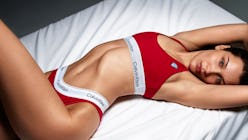 Calvin Klein's iconic underwear line, what with its signature #MyCalvins tag, have long been synonymous with an edgy, rambunctious energy. The long-running campaign has included celebrities like Justin Bieber, Lara Stone, and FKA Twigs. But for its latest, the brand is stripping things down (well, as much as can be when it comes to underwear) and convincing stars to speak their truths. First, the brand tapped the likes of Billie Eilish and Noah Centineo, and now Bella Hadid and Kendall Jenner are Calvin Klein campaign stars and underwear-clad truth tellers.
In a series of short videos for the brand, Hadid explains that she's "fiercely kind," while riding atop a horse dressed in a bra, denim shorts, and fishnet tights. "My truth? Oh, I have many," says Jenner, while Eilish's music plays in the background. "I'm a crazy hard worker. I'm a self care junkie. I'm a control freak. I'm definitely a knockout. Sometimes I feel like that black sheep." The duos' videos run alongside similar confessions from A$AP Rocky, Indya More, Kevin Abstract, and Troye Sivan — a group of young, influential creatives across a number of genres. "We believe that embracing authentic self-expression creates a platform for authentic connections – and ultimately, a catalyst for change," the brand notes via press release.
The "I Speak My Truth In #MyCalvin" campaign has already garnered major buzz, specifically around rising singer Billie Eilish's explanation as to why she chooses to wear loose-fitting clothing, "I never want the world to know everything about me," she says. "I mean, that's why I wear big baggy clothes: Nobody can have an opinion, because they haven't seen what's underneath." In Eilish's ads, the singer chooses to sport the brand's logo sweatshirt and socks, but remains committed to her self-proclaimed uniform.
Both Hadid and Jenner have modeled for the Calvin Klein underwear line in the past, so it's unsurprising that both are back to take part in the brand's latest campaign, one with a call to action for both the models and customers to be honest with themselves.
Now, whether you're looking for comfortable new undergarments to layer under your jeans, or you'd prefer to wear it as loungewear, san topper, shop the coolest styles below.