Belif Just Launched A New Hydrating Toner That Can Double As A Mask — Here's How It Works
Sephora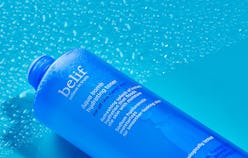 Falling in love with skin care is easy; finding a place to store your newfound product collection is not. If your bathroom cabinet and vanity are perilously full — and you're already shopping ahead of time for winter's skin-drying weather — then belif's new Aqua Bomb Hydrating Toner should be next on your Sephora shopping list. Launched Aug. 27 on Sephora's website, the $28 toner is yet another multifunctional (and space-saving) skincare hero from the K-beauty brand belif.
Eagle-eyed beauty fans may quickly notice that this new launch also expands belif's Aqua Bomb product family; this lineup includes the cult-favorite True Cream Aqua Bomb moisturizer, a $38 gel-cream hybrid that can be used as a primer and mask, as well. The new toner is just as versatile as the moisturizer, too: First and foremost, you can use the toner as, well, a toner. The fast-absorbing liquid is formulated with hydrating ingredients like hyaluronic acid, honeysuckle, and baobab, as well as skin-soothing beta-glucan sourced from fermented mushrooms. Safe for dry, combination, and oily skin types, the toner targets dry skin, texture, and dullness, leaving behind a soft-looking satin finish.
However, if your face is in need of a quick moisture boost, you can also easily transform the Aqua Bomb Hydrating Toner into a mask. Just moisten a few cotton pads, pat it onto your cheeks, forehead, and chin, and let the toner work its magic — this fast-acting mask will provide extra hydration when you need it (aka throughout the chillier seasons to come).
Additionally, belif's new Youth Creator- Age Knockdown Bomb also launched this Aug., retailing at $65 per 1.68-ounce bottle. The gel-like serum uses cedrol, a collagen-rich ingredient sourced from cedarwood sap, to increase your skin's firmness — which, in turn, can help reduce the appearance of pores and fine lines. "This new belif family member is inspired by and designed for skin well-lived in, and packed with antioxidants to soothe and support a healthy complexion," the brand wrote in a post on its Instagram page, @belifusa.
Ready to streamline your skincare collection? You can shop both of belif's new products on Sephora's website, or by visiting belifusa.com. Below, belif's new Aqua Bomb Hydrating Toner and Youth Creator- Age Knockdown Bomb.