Bed Head's Genius New Heat Brush Makes Styling Second-Day Hair A Breeze
Pixelformula/SIPA/Shutterstock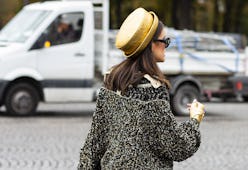 No one needs to wax poetic in 2019 about the downsides of flat irons. You know it all by now — and yet smooth, glossy, straight hair may still tempt you to reach for your straightener, day after day. If so, then it's time to introduce Bed Head's new Smooth Operator Straightening Heat Brush to your routine. Part detangling paddle brush, part shine-boosting straightener, the clever heat tool doesn't operate like your typical flat iron. For one, it's not, well, flat. But this allows the Smooth Operator brush to pull off the trick it has hidden up its sleeve: Reviving your already flat-ironed hair after you've slept on it, allowing you to skip the lengthy re-straightening process the next day.
This means styling your second-day hair is about to be incredibly easy and so much faster. The Smooth Operator brush is lined with rows of bristles, which will smooth through your hair, coaxing out any post-snooze knots. As you brush, the tool will also heat style your tresses — up to 400 degrees — using Bed Head's signature Ionic Tourmaline Ceramic Technology to keep things sleek and shiny. With multiple heat settings included, anyone looking to minimize damage can opt for a cooler temperature; while still styling their hair as they work it through.
As you may know, heat brushes are nothing new. However, the Smooth Operator brush's price definitely makes it stand out of the crowd. Launched at Ulta on Oct. 4, the brand-new styler retails for just $49.99. Even though this may make the brush even cheaper than your current flat iron, the product still comes with all the bells and whistles you've probably come to expect from a heat tool: It features a swivel cord, auto shut-off mechanism, and LED Smart Heat Memory System (so it'll "remember" the last temperature it was set to).
To check out the Smooth Operator brush in action for yourself, head over to Bed Head's Instagram account — the brand posted a video showing off how the heat brush works. Or, just grab one for yourself; Bed Head's new Smooth Operator Straightening Heat Brush, available at Ulta, is below.