Bathing Culture's Sustainable (& Instagrammable) Body Wash Is Now Travel Friendly, Too
Bathing Culture/Instagram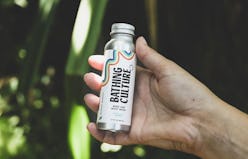 Bathing Culture is one of those newer beauty brands that stops you in your tracks, mid-scroll. Launched just a few years back in 2017, the shower-focused brand has accumulated more than 17,000 followers on its Instagram account — the place where photos of Bathing Culture's Mind and Body Wash truly flourish. The psychedelic, rainbow-printed shower gel is more than just pretty packaging, though: Inside one 8-ounce bottle is enough organic, biodegradable, and sustainable soap to last you 80 rinses.
Alternatively, you can also pick up a travel-friendly size starting Oct. 24. While the 8-ounce Mind and Body Wash retails for $20, the new 2.7-ounce recycled aluminum bottle goes for just $8 on Bathing Culture's website. And like the other sizes of the wash, you'll still be getting a very concentrated product: Bathing Culture noted on its Instagram account that one travel-sized Mind and Body Wash should last you for at least one month.
That could be a month-long hike out in the mountains, too. Since Bathing Culture's earthy, essential oil-scented Mind and Body Wash is biodegradable, it's safe for any outdoor, one-with-nature bathing a camping trip would require. (Though the brand's website notes that any biodegradable soaps should still be kept out of natural waterways.)
On the flip side, fans of the brand may be looking for a way to maximize their Mind and Body Wash intake. If so, then they just need to wait a few days longer. On Nov. 1, the brand will be launching an in-store bulk refill system (complete with a very on-brand $36 Refillable Rainbow Glass bottle). Once customers have used up their Mind and Body Wash, all they need to do is take the bottle in to their local Bathing Culture retailer, where it can be refilled for $1.33 per ounce.
Have yet to try the Mind and Body Wash for yourself? While it's free of synthetic fragrances, the eco-friendly soap has a refreshingly sharp, gender-neutral fragrance that leans on the formula's rosemary extract. It's also wonderfully quick to lather — with a texture slightly thicker and more syrupy than your run-of-the-mill Castile soap.
Or, grab a bottle to take on your next vacation to see what all the buzz is about. Below, Bathing Culture's new TSA-approved Mind and Body Wash size.