It's Time To Stop Stealing Your Partner's Sweater & Banana Republic's New Collection Is To Thank
COURTESY OF BANANA REPUBLIC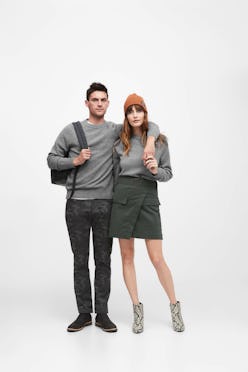 Gone are the days of borrowing from your partner's closet, as Banana Republic's UNIversal collection is offering up staples for the season that any and everybody can wear with ease. The posh retailer's new line focuses on gender neutral clothing, and it's serving up timeless pieces you'll turn to again and again.
Comprised of more than 60 styles ranging in sizes from XXS to XXL, the collection features classic wardrobe staples in gender neutral sizing that are designed for a universal fit as an ongoing commitment to celebrate diversity. And with everything from essential tees and crew-neck sweaters to luxe wool joggers and versatile jackets in the mix, you shouldn't have any problem finding a piece (or two) to add to your cart.
You won't have to break the bank when it comes to snagging these staples either, as the collection ranges from $29.50 for a Soft Wash Crew-Neck T-Shirt (offered in several colors) to $398 for the Heritage Plaid Double-Breasted Coat. When it comes to sweaters, there are several staple styles in neutral-hues that ring in for around $100, such as this Ribbed Crew-Neck Sweater for $98.50 and this $109 Heritage Mock-Neck Sweater.
The simple silhouettes in this collection allow you to play with the styling of the pieces, so you can seamlessly switch up your look from wear to wear. Take the $129 Merino-Blend Long Cardigan Sweater: you can simply wear it open over a blouse, or you can easily cinch the waist with a belt to give it a different vibe. Meanwhile, the Slim Tapered Japanese Flannel Pant, $98.50, can be rolled-up at the bottom and paired with a sleek heel to create more of a modern, tailored trouser look.
Other highlights in the collection include this Slim Corduroy Shirt Jacket in a deep navy hue for $139 as well as this navy and white stripe mariner shirt for $49.50. Of course, you don't want to miss the offering of accessories either, where you can shop for cold-weather essentials like hats and scarves.
Keep scrolling to start shopping pieces from the collection, and head over to the site to view the rest.