Meet BAACAL, The New Brand That's About To Give Your Basics An Upgrade
COURTESY OF BAACAL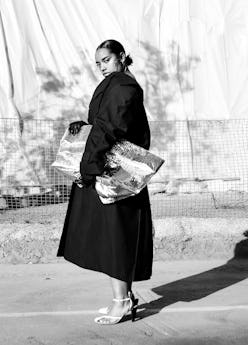 You most likely have a few Cynthia Vincent designs hanging in your closet, and now the designer is back in the spotlight bringing her knowledge and experience to the launch of a new line. Available to shop on Dec. 3, Vincent's newest venture, named BAACAL, consists of modern, tailored, and effortless pieces that women sizes 10 to 22 will be eager to add to their closets.
Ranging from $95 to $795, the collection is composed of both classic essentials as well as statement styles that still remain very wearable for everyday looks. Vincent's desire to launch BAACAL stemmed from challenges she faced in finding quality clothing available in the right sizing.
"What made me want to launch BAACAL was experiencing first hand the complete void in the market for better made, beautiful clothing for women beyond a size 10," says Vincent in an email to The Zoe Report. "That coupled with the desire to build a women-led, for women company."
The diversity of silhouettes will make it easy to start your own BAACAL-filled wardrobe. The collection includes a range of styles that encompasses separates, dresses, and outerwear, all of which are simple, modern, and tailored to help create a put-together outfit easily. Go-to tees and denim round out the offerings, and while they're easy pieces, the design and construction give them an elevated feel. So even when you're dressing down, you'll still look polished.
As for the inspiration behind the clothes, Vincent explains that it stemmed from wanting to make pieces that would live beyond passing trends in addition to the desire to help women feel their best. "The inspiration behind the collection is also part of the company ethos: To create clothing that is both stylish and expertly fit, [and] pieces that are classic enough to last for years, not just seasons," says Vincent. "To help a woman create a wardrobe that allows her to be empowered. To create pieces that she can go to with confidence time and time again."
As for the details Vincent thought about when designing, she explains it's all about creating a good fit and allowing the fabrics to come to life. "Clothes are something that moves with us and are on our bodies; it is always part of my fit process to understand how you feel in them," says Vincent.
Of the new styles in the collection, a standout is undeniably the trench coats, which come in both a solid black and a must-have plaid. These also happen to be favorites of Vincent's. "My personal favorites are the trench coats and box double-breasted coat because I can throw them on over almost anything and look instantly polished. Both coats are lightweight and have shoulder pads to create a long clean line," she tells TZR.
Of course, it's not just outerwear in the collection. For underneath your jackets, the tie neck blouse in crisp white will make for a refined, timeless look. And if you're looking to make more of a statement, opt for the elegant blouse in a snake skin print. The line will also include pants and jeans, so if you love the fit, you'll be able to wear it from head to toe.
The first BAACAL collection will be available to shop on Dec. 3, and in the meantime, you can start scrolling through the site for a preview of what you'll be able to add to your closet once it's officially here.