Away Designed Its Latest Collection To Elevate Your Travel Uniform
COURTESY OF AWAY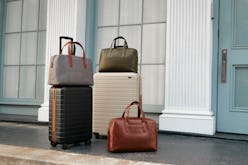 Whether you're embarking on a work trip, a family vacation, or a weekend away with friends, there's no reason your luggage shouldn't be as stylish as the rest of your closet. And now, Away's Maverick Collection is making it that much easier for you to keep your travel uniform looking polished from departure to arrival. The popular travel and lifestyle brand's latest launch brings a luxurious spin to its classic styles to create a lineup that'll have you ready to revamp your entire travel arsenal.
Available now, the limited edition collection brings rich color and luxe touches (including leather accents and a plaid print) to Away's beloved silhouettes. This sophisticated range gives Away's already sleek polycarbonate hardshell suitcases, The Everywhere Bag, The Weekender, and The Backpack even more of an elevated feel.
Additionally, this collection brings a new product called The Dropdown Dopp, $75, to the mix, and it's bound to become your new favorite travel companion. The chic case includes three mesh pouches to hold your essentials and offers a small hook so you can hang it on a door for easy access. On top of that, it features a clear, removable pouch for liquid products — which is sure to make going through airport security a lot easier.
If you're in the market for a new suitcase, you'll find that Away's luggage sizes — The Carry-On ($275), The Bigger Carry-On ($295), The Medium ($325), and The Large ($345) — are all available in both a shade of sand and black that have been trimmed in premium tan leather. Meanwhile, if you're lacking a carry-all that can slip right onto your suitcase handle, be sure to peek at The Everywhere Bag while it's up for grabs in both a smooth, warm brown leather and green leather for $325 as well as in a classic plaid with dark brown leather trim for $275.
But, when it comes to packing for quick weekend jaunts, consider snagging The Weekender for $325 or The Backpack for $275. Both thoughtfully designed styles were crafted in a marbled black-and-gray nylon with a black pebbled leather accent for this collection.
There's no doubt the pieces in this new collection will bring a refined touch to your travel look. Continue on to see and shop a selection of styles, and head over to Away to view the rest.