Away Teamed Up With Your Favorite New York Bakery To Create Its Most Colorful Collection Yet
COURTESY OF AWAY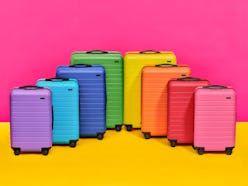 Color-enthusiasts rejoice. Thanks to Away's FLOUR SHOP collab, you can now scoop up a new set of rainbow-hued luggage. Yes, the colorful, limited-edition collection Away has been playfully teasing on Instagram since last week is officially up for grabs, today. And considering how popular the brand's suitcases have become, you'll want to shop yours sooner rather than later, because it's selling out fast.
No stranger to color, Away's latest partnership, however, turns up the dial to vibrant and full-on ROYGBIV. The collection brings together the brand's beloved luggage styles and packing cubes with the bold confetti colors from FLOUR SHOP — a New York bakery known for its highly-Instagrammed rainbow explosion cake and other colorful treats.
You can forget the days of not being able to spot your suitcase on the baggage carousel, as this new collection includes eight eye-catching polycarbonate colors — red, pink, orange, yellow, green, light blue, dark blue, and purple — that you surely won't miss. And since each of the hues are available in all four of Away's suitcase sizes — The Carry-On, $225, The Bigger Carry-On, $245, The Medium, $275, and The Large, $295 — you can either snag them all in your favorite shade or shop a few in different colors to create a cheerful lineup of luggage. To top it off, the suitcases come with a branded luggage tag, which features an exclusive FLOUR SHOP design.
The collaboration also offers up new iterations of The Insider Packing Cubes. If you're not familiar with these interior organizers, they're made with waterproof nylon and feature a mesh panel so you can find what you need easily — basically a packing life saver. Available in a set of four for $45 each, this collection's cubes come in two versions: "Warm" with contrasting zippers in red, pink, yellow, and orange and "Cool" with contrasting zippers in green, light blue, dark blue, and purple.
The start of a new season is the perfect time to invest in new luggage. So, if you're in the market for a suitcase, head over to Away.com or scroll ahead to pick out your new colorful travel companion.