Aritzia Created Its Own Version Of The Perfect Skinny Jeans (& They're Under $100)
ARITZIA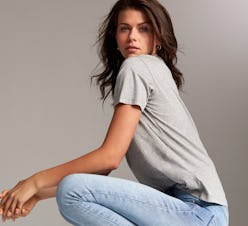 While you may have your go-to jeans, if never hurts to bring in a few new styles, especially right at the beginning of the season. Not to mention, all your spring closet cleaning may have left you with a limited selection of the wardrobe essential. So, if your current pile of jeans is looking a little one-note, it's time to take a look at the new Aritzia Denim Forum collection to give your denim drawer a refresh.
On March 5, the Canada-based retailer launched its second season of the in-house brand Denim Forum with the release of its 2019 Spring/Summer collection. Entitled Acapulco Amour, the collection has an elevated-but-easy '70s vibe and features silhouettes with flared legs as well as exposed button flies in light worn-in washes and vintage indigo hues, among others. The brand's styles also include design elements that aim to give you an ideal fit using what it calls Best AssetTM , a construction technique designed to create lift for your backside.
"We invested countless hours in ensuring that the brand continues to offer elevated fits made from the best materials possible, including organic cotton and Green Screen certified fabric softeners," said Natalie Nelson, Senior Director of Denim, in a press release from the brand.
And the team behind Denim Forum thought just as much about the design as the environmental impact, developing a production process that reduced the amount of water waste that traditionally goes into producing denim. "Having witnessed the conventional clothing industry first hand, I've centered my career around the new and exciting possibilities of environmental awareness, which has become an inherent part of the Denim Forum's DNA," said Nelson.
As for the standout styles? The Nico Mid Crop is a must-buy for $98 if you're lacking that wear-with-anything skinny to pair with both sneakers and mules. Then, bring a retro feel into your look with The Bailey Patch for $110. The cropped flare's front pocket and button details give the silhouette a nostalgic vibe. For a cleaner look, opt for the effortless Farrah Wide Leg, also $110. And if you're not after a flared silhouette, peek at The Arlo Straight, $110, and switch it up for summer by shopping the style in the washed-blue hue entitled "Tequila A Go-Go."
The range not only serves up a strong selection of stylish, everyday jeans, but other denim pieces like shorts, tops, and a button-front dress. There's a jumpsuit in the mix for $178 that shouldn't be overlooked, either. Continue on to see and shop a selection of these styles from Denim Forum's new collection below, and head over to the site to view the rest of the offerings. The brand is available at select Aritzia stores and on Aritzia.com.