This Elevated Essentials Brand Just Launched Extended Sizing & *So* Much More
Courtesy of Apiece Apart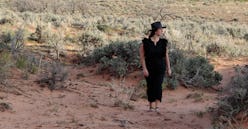 To a certain shopper, Apiece Apart is it. The end all, be all. The breezy, easy-to-wear essentials they've been searching for. However, while falling in love with Apiece Apart is uncomplicated (the brand describes itself as balancing "the simple with the sophisticated"), accessing it could prove to be a challenge; previously scrolling through the popular brand's website only yielded sizes 00 through 12. Well, until May 2 — the day Apiece Apart's extended sizing collection debuted online and further opened up the brand's dreamy, southwestern-tinged world to shoppers who previously couldn't take part.
The extended sizing selection features sizes 14 through 20, and is just one part of Apiece Apart's new Spring/Summer collection. "We are launching with both key styles from our Spring/Summer 2019 collection, as well as iconic Apiece Apart pieces," designer Laura Cramer explains to The Zoe Report via email. And this isn't a one-time occasion, either; "each season, we will be adding size-inclusive favorites from the newest collection," Starr Hout, another Apiece Apart designer, adds.
And yes, popular Apiece Apart pieces — like the Carmen Denim Overall and the Isla Wideleg Jumpsuit — are included. "We have come to realize that jumpsuits are a piece of clothing that make our busy days easier. As busy mothers, we were always gravitating to versatile styles that make us feel confident, yet feminine," Hout explains.
"It's clear other women have found out the same jumpsuit life-hack!" Cramer says. And Apiece Apart made some warm weather tweaks to its designs, too. "The spring collection offers some of our best-selling jumpsuits, including the Isla Wide Leg Jumpsuit in a lighter-weight, or sleeveless versions ready for the sun," Cramer notes.
But the size-inclusive selection is just one reason to celebrate the Spring/Summer 2019 collection. Natural beauty inspired the latest Apiece Apart drop, and you can see it throughout the look book — soft shades of blue and warm neutrals reflect the expansive landscape in the background. There's a sense of wanderlust and quiet determination to these pieces. "The strong women surrounding me daily are a constant source of inspiration," Cramer notes.
Nevertheless, this is clothing just as suited for a moody desert walk as it is a busy city commute. "A lot of the inspiration comes from functional needs in our own lives. I am always looking for the perfect shirt dress, everyday pant, and romantic blouse. We hope to offer elevated and timeless pieces to as many women as possible," Hout says.
Shop the new Apiece Apart Spring/Summer 2019 collection in Apiece Apart stores or on Apiece Apart and 11 Honoré's websites. Ahead, a handful of the pieces from the latest drop that deserve your first look.