Influencer Amber Fillerup Clark's New Desert-Inspired Haircare Line Is About To Replace Your Essentials
Courtesy of Dae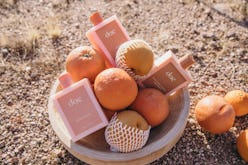 You might know Amber Fillerup Clark as the fashion, family, travel, and general lifestyle blogger behind Barefoot Blonde, which she's been running for more than a decade now. These days, she plays the role of "Instamom" (you know, an influencer whose kids are so cute that every picture of them gets tens of thousands of likes), but it was Clark's love of hair that really started it all. And it was that love that ultimately led to her latest venture — the new haircare brand by the name of Dae, which launches on Jan. 28.
Dae — an acronym for dawn, afternoon, and evening — is designed to be an all-encompassing, sunrise-to-sunset routine inspired by the scenes and smells of the Arizona desert, where Clark and her family of five lives. Even the aesthetic of the packaging, itself, seems to be modeled after the influencer's sun-drenched Instagram feed.
"I always knew I was going to do a haircare line and when we moved to Arizona, the vision for it all came together," Clark tells The Zoe Report in an email. "It is very inspired by the colors, textures, and scents of Arizona and the daily routine that my family and I have and what we try to savor each day."
This isn't Clark's first brand launch in the beauty industry, of course. Her beloved hair extension line, Barefoot Blonde Hair, is still going three years strong since its launch in October 2016. Her new haircare lineup — so far consisting of a shampoo, conditioner, and a deep conditioning treatment, all costing between $24 and $28 — is entirely vegan, cruelty-free, and made without parabens, sulfates, and synthetic dyes and fragrances. Safe, she says, to use on her extensions, too.
"A lot of us didn't grow up with a knowledge of what goes into the products we use," she says. "It's a problem I don't want my kids to grow up with, so I figured there's no better place to start than the products I'm developing on my own."
Dae's toxin-free products are concocted from ingredients like sweet almond oil, turmeric root extract, moringa leaf, aloe, and cactus oil. Hydration seems to be the overarching theme, so moisturizing agents like coconut oil and shea butter are key. The products are scented with a citrusy blend of essential oils designed to leave your hair smelling like an Arizona orange grove all day long.
Basically, Dae is giving every woman's three essential haircare staples a necessary "desert flair," Clark says. She also tells TZR she has big plans for the future of the brand — "We want to be a part of the entire shower experience," explains the founder — but for now, you should add this debut trio to your morning routine the very moment Jan. 28 rolls around.