Amazon Shoppers Are Obsessed With These Soft, Stretchy Jeggings ⁠(& They're Only $21)
Shutterstock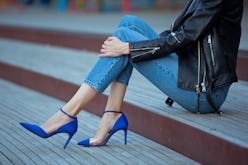 Thanks to knit jeggings, it's now easier than ever to achieve the look of pants with the comfort of stretchy leggings. The key is to find a versatile pair that holds their shape well all day, and that's just one of the reasons why these $21 skinny stretch leggings are a best-seller on Amazon. With their effortlessly chic silhouette and soft, stretchy fabric, these leggings are stylish, yet comfortable enough to wear to the office, on your next flight, and everywhere else in between. Plus, these are one of the rare pairs of leggings that are opaque and have pockets, too.
The Amazon Essentials Skinny Stretch Pull-On Knit Jeggings have earned more than 400 hundred reviews and a 4.3-star overall rating from satisfied Amazon customers. Many reviewers have been particularly impressed with the softness of these jeggings. "They're so soft and stretchy that they easily will become a regular in my wardrobe," one shopper noted.
And while they're made of a stretchy blend of cotton, polyester, and elastane, reviewers note they don't become baggy after all-day wear. "I wore them all day the first time and the best news is that they did not overstretch or threaten to fall down like some jeggings I've owned, so a super win there," wrote one reviewer.
These versatile jeggings come in dark, light, and gray-toned denim washes, as well as classic black and stylish Burgundy. There's even a plaid pair that doubles as a pair of professional-looking work pants. And since these leggings are less than $25 each, if you can't decide on a color, it's easy to stock up on several different pairs as one Amazon shopper did, who commented: "I just went back and ordered one in every color they had available (plus another black because you can never have too many of those!)"
They're also available in a wide range of sizes, and you can even choose from short, regular, or long inseams to really find your perfect fit.
Pockets aren't always a feature with leggings, but this pair has two functional back pockets, which are big enough to hold a phone and other small items, according to reviewers. They also feature two non-functional pockets in the front, which add to the pants-like look. These pull-on leggings don't have any buttons or zippers, which increases their smoothness and comfort when sitting. There's a built-in panel for extra support in the front, and the leggings also have loops, so you can accessorize with your favorite belt or even a long scarf. Shoppers report that the waist is low- to mid-rise.
Not only do these knit leggings make pulling together a cute and comfy outfit a breeze, but they're also machine washable. As Amazon shoppers have noted, the material holds up well even after multiple washes. "The material is very comfortable and they definitely hold up to machine washing and drying," one reviewer reported.
With comfort, versatility, and style all coming at such a great price tag, it's no surprise that fans have been stocking up on these popular knit jeggings. You may find yourself wanting to add a pair (or a few) to your wardrobe, too ⁠— and with Amazon Prime, you could have them all at your door in just two days.
The Zoe Report may receive a portion of sales from products purchased from this article, which was created independently of The Zoe Report's editorial and sales departments.